Chris Brogan Thinks I'm Lazy

That settles it: roundup posts are lazy? When I get around to it, I'll give him a piece of my mind. Meanwhile, I am so lazy that I am counting this as one of the 5 for this week's ROUNDUP POST.
Twitter Verification is Now For the People
Socialism rules! Equal rights for all! That sign of the bourgeoisie, the Twitter verified account blue checkmark, is now available to the hoi polloi. Well, as long as you pass the test of notability, but at least everyone now has the option to ask.
I applied (I am @DougH! Remember?) I am hoping that eventually we can customize our checkmarks, so that I may disply mine in the colors of the Stewart of Atholl clan: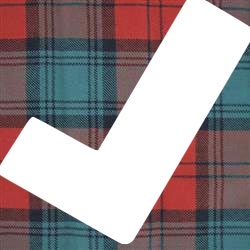 It's not much to ask.
Who Ya Gonna Call? Twitter Support? Hate Speech is Not Free Speech
I don't have much to add to the chorus of voices already online, but as a fan of Leslie Jones from (slightly) before her SNL debut, I am an even bigger fan of the #LoveforLeslieJ hashtag, started after racist/misogynist (cheaper when you buy two) Twitter trolls attacked her for the crime of being a very funny lady in the new Ghostbusters movie. I'm not going to get back into the whole history of trolls turning the fact of a Ghostbusters reboot with a female cast into an excuse to be hateful on Twitter, but I will celebrate the fact that Twitter finally found some spine to ban someone (a so-called "journalist," Milos Yiannopolous) for ringleading the hate.  Now, for Twitter to crackdown on hate speech (which is not free speech) and other forms of abuse more consistently (?).
As for the movie- I dream of a day when we can simply say that Ghostbusters was a very funny movie that was limited only by its required reverence of the source material- I agree with my friend at The Boston Globe in that I hope a sequel is less beholden to the original and is a bit more bonkers- everyone involved (even the fellas) earned it.
If You Are Going to  a Conference for the Keynotes, Maybe You Don't Need to Go to the conference
When I go to conferences, I often use the keynote slot as a way to get work done. Keynotes are often simply some sort of celebrity booking to either attract attendees (though if that's why you are booking a ticket for a conference you probably shouldn't be going at all) or to reward them for coming all that way.  Does a keynote need to be relevant? Do Spredfast customers expect Daily Show host Trevor Noah to impart some wisdom on social media analytics? Did Amy Schumer throw relevant red meat to the Inbound Marketing flock? Of course not.
That was part of what went into my reaction to outrage by part of the BlogHer audience when Kim Kardashian was announced as a keynote. Sure, she's a celebrity, which normally would indicate an irrelevance that incites no more than an excuse to skip the session. Sure, some might object to what she represents. But to be honest, my reaction was that she is actually relevant: someone who not only uses social media well, but has said some very common sense things about how to approach social media that puts her ahead of most social media "gurus" in imparting such advice.
I'm not part of the BlogHer community, and I understand the passion of much of the community, but part of me feels quite happy that a conference was able to balance the need for a celebrity draw with actual relevance. Last year, the conference had Gwyneth Paltrow. I'm not going to judge that.
But like I said, I'm not an invested part of that community.
I Have Joined GoPro Nation: Here is Why
As a cyclist, I like to occasionally take videos of rides. I have resisted, vociferously, using a GoPro camera because they are bulky and awkward, despite their quality and popularity. I favored the Contour cameras, as their shape was unobtrusive on the handlebars. That said, after a number of years my Contour finally broke. As a replacement? A GoPro, due to the apparent downfall of the Contour brand. Fortunately, GoPro finally, a while back, introduced a model, the Session, that was small like I wanted- and finally, they lowered the price (it was originally $400 like the clunky, butt-ugly Hero model). Sold. So far, I am happy with the raw tests.