Gischeleman: "To Create With the Mind"
Last summer, I rode in my fifth Pan-Mass Challenge. This two-day ride to benefit the Dana Farber Cancer Institute in Boston has been the centerpiece of my summer since 2008. At first, it was an excuse to do more cycling, get more fit, and benefit a worthy cause in the process. As the years went on, it became more personal, as I lost my father-in-law, then my father, to cancer, and have seen several friends' lives affected by cancer in various ways.
The Pan-Mass Challenge requires its riders to make a strong commitment to fundraising. With over 5,000 riders, and 100% of the funds raised going to Dana Farber, it's hard to complain, though it is a challenge on a par with the cycling itself. The Pan-Mass Challenge in total raised $37 million for Dana Farber last year; I'm glad to have made, with your significant help, some contribution toward that total. At this time each year I take a look back at my fundraising efforts and evaluate how I did, what I did to get to that level of success, and what factors influenced the results.
First, total funds raised: I set a goal of $7,500 last year, well above the minimum of $4,300 and even the "Heavy Hitter" line of $6,600 (my fundraising page is found here). I figured I could match the level set in 2011. As you can see, my total fundraising lifted significantly the previous two years. Unfortunately, one of the main reasons was sympathy over the illness and deaths of my father-in-law and father. Still, I was grateful for the extra support which gave strength to my riding, and vowed to try to keep up the new pace.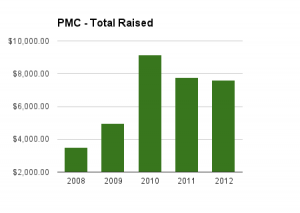 Another metric that rose significantly in 2011 was number of sponsors. That number held fairly steady in 2012, which is great. As I said last year, more people spreading the word is a good thing, even if I'm not raising quite the amount of money I did two years ago.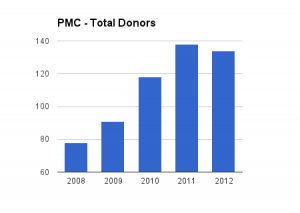 The biggest difference in 2012 was the percentage of donors who were repeat donors. This was not an accident. One of the tactics I changed last year was to send an email to previous donors early in the year (in January or February  in addition to my customary "The Ride is Coming" email in July. It made a huge difference, and meant I could spend less energy trying to recruit new donors, as I had to do the previous year. You can be certain that I will be doing something similar again this year.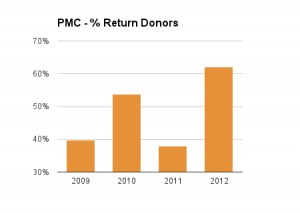 One final note: the average donation held steady, at a pace with 2011 (as well as 2009) levels, proving what I already knew, that some of the larger donors that supported my in 2010 were one-timers. I had already accepted that, which is why I set my goal to match 2011, rather than try to meet the higher levels.
Aside from asking last year's sponsors to join me again, what else can I do? I blogged less frequently ast year and posted fewer training-ride videos: perhaps it is time to do more of that in 2013.
Initially, my goal for the 2013 Pan-Mass Challenge is to raise $7,500, the same as last year. If early response is good, I may revise that. I'm looking forward to another year of riding and raising funds to beat cancer. I hope you'll join me. The site to donate is: http://bit.ly/pmcdoug.
As always – Thank you!
Posted in Cycling, Pan-Mass Challenge | No Comments
Instagram, the popular app for making your crappy mobile photos look like, well, slightly less crappy photos, has the Internet up in arms with its recent announced change to its Terms of Service. In January, Instagram will begin reserving the right to license and profit from any of the photos you upload to Instagram and make money selling them for ads. No royalties for you, no permission asked, not even an opt-in.
Amateur crap-tographers are understandably upset. While Instagram has always been suspiciously bereft of any form of rights licensing to uploaded works – unlike, say, Flickr – this has seemed to make social media savants so angry that their iPhone shots are blurrier than usual as their hands shake from anger.
I, however, embrace this. What right have I to expect that things I upload should be treated with respect by the service? After all, it's free and I don't own the platform. My precious images, and any content I publish elsewhere, should be free for plunder and profit to all but me.
In that spirit, I thought I would pick a few images from my own Instagram account and suggest brands that could use them in some super ads:
This is an extreme close-up of my hand. If any soap company (Dove? Irish Spring?) would like to use this, I'll be happy to pretend I use it to keep them looking like this.
That's a sausage. Jimmy Dean, all yours.
Old El Paso? Tostitos? Ortega? Salsa brands, it's first come first serve for this muy caliente photo.
Jeep or Honda? Based on the parking skills on display, I'd say Honda.
Toastmasters – recruiting? Here you go.
And of course, sports physical therapists from all over the country will want to grab this one. I'm assuming the NBA and the NBA Players' Association have also relinquished their rights.
Posted in Uncategorized | 2 Comments