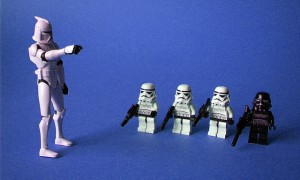 Here we go again: the long-awaited new Star Wars movie is out (side note: I'm ok with spoilers; either the movie is good or it's not), and the predictable "Lessons Learned" posts are pouring in from PR, marketing and social media bloggers. Yay.
Here's another, with business lessons! (It's an old one, but whatever)
Even more PR lessons (PR agencies should just have a Jedi Training School, right?)! – Oh wait, it's the same article on a different web site- is there a lesson there?
Rather than just hate on obvious, easy-to-mock posts (or alternatively, well-thought-out posts tenuously tying real professional advice to a clickbait-friendly pop-culture event), let me think of 5 other things you can do.
Make sure there is real relevance: Is there a direct relevance of Star Wars to your "lessons," or are you straining to make the connection? "Count on your business rivals to consistently miss the mark like Stormtroopers" would be an example of a poor reach. If you find yourself straining too hard to cram relevance into a subject that holds none for you, your readers will see it and move on from your post.
Mix it up and avoid being a hack: use language other than "lessons learned." Perhaps you can personalize it by finding inspirations in the story or the movie marketing that you can apply. Did you do that? Do they have to be "lessons learned?"
Have a unique angle: Perhaps there is a niche within the movie or its characters that you can focus on, rather than just lazily pasting "Star Wars" on to your blog post and writing some gibberish about the Light and Dark sides of the Force. Maybe you can invent fake "spoilers" to make points about marketing etc., which gives you more leeway to force (Force!) the topic to be relevant to you, rather than the much-more-painful other way around.  
Be counter-intuitive; How about "6 Ways Star Wars has Absolutely Nothing to do with Marketing?" You can make substantive points, and still be a little subversive without offending people. Or maybe go full-on funny and do a "Lessons Learned from Spaceballs" instead (yes, I put "Spaceballs" and "funny" in the same sentence, as evidently there are people who got more laughs out of that turkey than I did).  
Stay away from Star Wars altogether: Do you really need to pander to pop culture to get clicks? Is that where your audience's minds are at? I suspect they are not.
That said, here are are my marketing lessons from "Star Wars: The Force Awakens":
Be owned by Disney
Have a zillion dollar budget
Advertise everywhere (again: budget!)
Create something forty years ago that people love so you can go back to the well again, clean out their wallets and still have them thank you
Harrison. Freaking. Ford.
Count me in!