Last Saturday (May 21), we said goodbye to my father, Kenneth Haslam, who passed away May 14 after fighting cancer for a year. My brothers and I eulogized him, as did several people in the congregation who spoke extemporaneously. A great tribute to a man I already miss. I would like to share my part of the eulogy here:
Before I add my own words about Dad, I wanted to acknowledge one of the new ways many of us communicate – Facebook – and just a few of the things our extended friends and family shared with us there
"It may sound cliche but your dad had a wonderful life. Thoughts and prayers for you and your family."

"Your father obviously was a wonderful man to have raised you and getting all these awesome legacy posts."

"May you find some laughter in the memories, amid the tears. Both are the measure of a good life and a loved man."

"The testiment of ones life is measured by many deeds – but none more so than the love, support, confidence, sense of imagination, adventure, spirit, work ethic, respect, compassion & drive one instills in his family & friends around him. Having never met your father, but knowing you – I can say he was a great man."
It took me more thinking than it should have to come up with my own words for Dad. I should bring up specific memories of father-son moments, a catch in the park, or some other bonding, but I'm going to leave that to my brothers John and Rob, who are much older than I am (tell me more about the 60s, brothers). What I keep coming back to instead are the things that live on in our Dad. The things he instilled in us, and we now carry with us. I can sum that up in three words:
Family, Quiet and Funny.
Family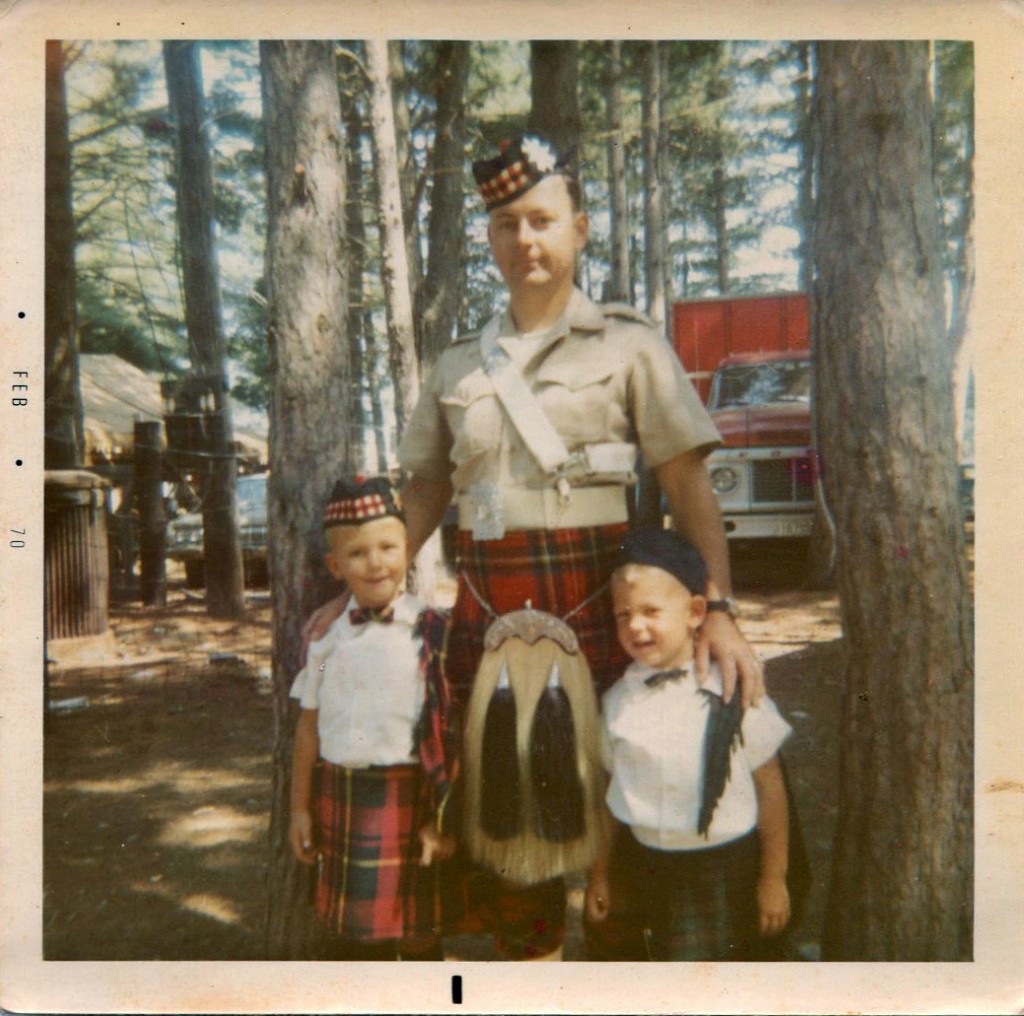 It's not just that he was father to five sons and very involved in our lives, or that he remained close to extended family like Aunt Cathy and Uncle Dave, Aunt Maggie, Vicky, and even across the pond with David and Lynn Cruickshank and the rest. It's that he always had a keen sense of where he came from- which we also consider to be where we came from. The son of an Englishman and a Scotswoman (which in a past age would be considered a mixed-race family), we were always keenly aware of our Scottish roots in particular. There is no childhood memory of Dad without picturing him in the Clan MacPherson pipe band uniform, marching in some parade or at the Hopkinton fair–a constant visual and at times painfully loud musical reminder of our own Scottish heritage.
It's no coincidence that Rob has long taken an interest in genealogy, that John, Rob and Bill all followed Dad into the pipe band (they had no sheet music for trombone so I stayed out of it). Nor did I give even a second thought to choosing Scotland as part of my first-ever overseas trip, being sure to visit family landmarks such as Stirling and Aberdeen while I was there, thanks to Lynn. I still want to get to Bolton, England where I expect the name "Haslam" to be greeted with round after round of free drinks, though it may just as likely be met with a shrug by the many other Haslams who I assume still live there. And that would be ok by me.
Quiet
Dad was nothing if not quiet. If he got loud it was unusual, and we paid attention, but it would take a lot to get him riled up at home, which with 5 boys was a strange place to expect any quiet (I do distinctly remember a shoe flying by at one point, no doubt directed at one of my noisier brothers ;)). I want to distinguish, however, between quiet and shyness, something that took me much of my early life to figure out, but that I try to live by now. Dad was not solitary, a shrinking violet or agoraphobe. He was just quiet, he didn't talk a lot or loudly. From him I learned the value of listening and observing, and eventually learned that not being loud was a virtue, and did not preclude being recognized as a valuable and active part of the community, in the neighborhood, in the church, in the band and elsewhere.
To some extent I think the five of us inherited that trait, though we all express (or don't express it) in different ways. I'm glad I learned to accept being quiet as an attribute.
Funny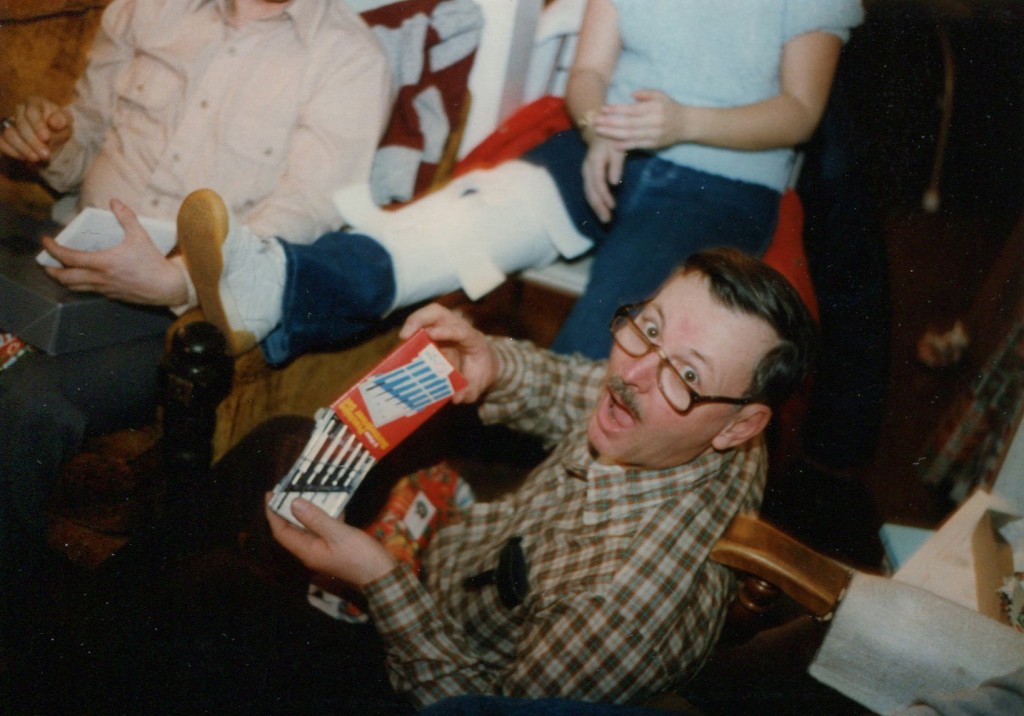 I saved my favorite for last– Dad's sense of humor. We all inherited his warped sense of comedy, much to the annoyance of our spouses (well, I can speak for myself). But pair an ability to find things around him funny with Dad's quiet nature and you get small outbursts of what I think is the most brilliant comedy there is. Where did it come from? It might be 6:15 am on a school day and Dad simply standing in our door way saying "Get out of bed!" in his trademark drone. Was it his preference for British comedies? It was Dad, after all, who turned us on to the likes of Monty Python, Fawlty Towers and the Goodies– intelligent yet obscure and silly humor that makes me see what made Dad tick.
Dad's sense of humor was offbeat, and I loved it.
Perhaps the essence of Dad's humor was the ability to burst any balloon by seeing the absurdity of any situation and either meeting it with a deadpan comment or shutting it down with blunt common sense. He has the ability to deconstruct any situation without offending anyone. Even near the end, our dear friend Emily Leavitt, who helped Dad and Mom so much when he needed in-home care, did not escape. She sent us a transcript of their exchange, but I can't do it justice. Suffice to say that Dad's ever-evolving requests for coffee resulted in more laughter than sadness for us.
Is dad gone? No. He passed his best traits down to his imperfect copies. We're here.
It has been a tremendously tough year for our families, with my wife and now me losing our fathers to cancer. This has made this year's Pan-Mass Challenge ride all the more meaningful. I look forward to riding in August, and am still accepting sponsorship donations in any amount at http://bit.ly/2011pmc. 100% of all donations go to the Dana Farber Cancer Institute in Boston. Thanks to all of you who have and continue to support me!