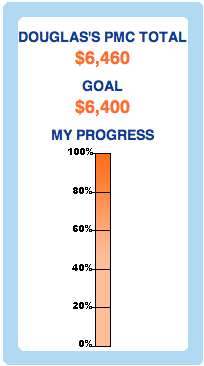 Thanks to you, I have reached my initial fundraising goal of $6,400- five weeks before the Pan-Mass Challenge! The generosity from sponsors, both returning friends and new ones, has been amazing. I thought I would get a screen capture of the gauge from my fundraising page. It is a great feeling to see that full!
Making the goal designates me as a "Heavy Hitter" PMC rider- in fact, that's all the number means, so if you have yet to sponsor my ride, please feel free to do so at http://bit.ly/2011pmc.
100% of every dollar riders raise goes to the Dana Farber Cancer Institute in boston,m a remarkable organization dedicated to cancer treatment and research for a cure.
Now what? Well, I still have riding to do to prepare for the Pan-Mass Challenge on August 6-7. In order to go 170 miles in 2 days (the approximate distance I will ride on my route), I still have to keep up on training. I have been keeping a training diary, and while I have biked fewer total miles compared to this point last year, I have done many more long rides (40+ miles). It will be interesting to see how this affects my preparation, but I feel that I am on track.
Meantime, I have been experimenting with a new camera for the bike: the Contour HD. It seems to have a wider angle and better video quality than the Kodak Playsport I had been using- and the dedicated handlebar mount allows for easier swiveling to take in the sights. Audio is still an issue, as the bike simply makes too much rattling noise, but as you will hear in the video  the use of music is a nice alternative.
Here is my first published ride using the Contour, from a recent ride with my Sunday group:
Again, thank yo to all who support my ride, in any way that you do.
Music in video:
"Stay" by Paulina Logan:

"Slim Slow Ride" by As Cobras Malditas