Here's a little story about how social media got the sidewalks cleared in my neighborhood. Sounds like a small deal, but it is an important safety issue.
I had one of those unexpected gratifying moments on Twitter today.
Actually, it was on Twitter/Flickr/Blogs, via Posterous (and, as I realized blow, as I was writing this, Friendfeed).
On the way to the bus stop in Newton Corner (Massachusetts), I have to cross a bridge over the Massachusetts Turnpike. The bridge sidewalk is never cleared of snow, and in the 12 years I have lived year I have tried repeatedly to get it plowed so people could cross safely on foot. Somehow,  jurisdictional issues between the state and the city always got in the way, and it never got cleared.
On today's walk, it occurred to me to take a picture and post it on my Posterous site. Through there, it went straight to Twitter and Flickr (I'm able to choose, even via email, how to direct such posts, which I think is very cool).
Here's the post:
"I don't care if Newton or the state of MA is in charge…someone needs to clear walks in places like Newton Corner. What'll it take, someone getting killed?"

One person who saw it on Twitter was Greg Reibman, Publisher of Gatehouse Media, which produces the Newton Tab newspaper as well as the "Wicked Local" blogs: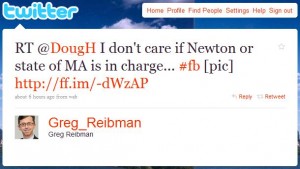 *Just to make things more complicated, I should mention Greg saw the post via Flickr, which went to Twitter through Friendfeed.
Greg also posted the story on WickedLocal Newton, and some time later posted again on Twitter (along with an update to the blog post):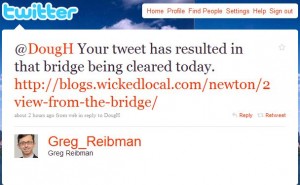 The key quote from Greg, and Newton Mayor Setti Warren:
Update: I received a call from Mayor Warren at 2:45 today saying that this bridge (which is located in Newton Corner) has now been cleared.

"This is a priority bridge and it should have been cleared days ago," Warren told me. "We will work much harder to make sure not only this bridge but all other bridges across the city are cleared."
Well, I had to see for myself:
Nothing like a simple collaboration among citizen, journalist, mayor, and at least five types of social media sites to solve a problem.
Still think Twitter et al are silly?
Next, I will upload a picture of my dirty dishes and laundry. I don't suppose… nah.