Two "User Experience" Pet Peeves
After a week off of writing, I'll start with two less timely thoughts:
First – why stop at annoying customers, visitors or users once when you can get them multiple times before they leave forever?
I have been seeing more "No thanks I want decline this amazing offer and keep on being a loser" opt-out text on pop-up ads on the Web. Marketers need to trust consumers to say "no" and work harder on the people who show interest. Why alienate people who are itching for a reason to hate you more?
My other pet-peeve is not as new: the "fun content" on the unsubscribe page.
"Oh, you  don't really want to leave us, do you?"
"Yes, yes I did want to stop getting your content. That did not mean I hate your product, but now that you have gone out of your way to annoy me I might reconsider that."
OR:
"Ok, I'll stay on because you made me chuckle. But I still resent getting interrupted by your emails."
I am sure there are metrics any company can twist that say these things are successful, but how successful and useful is that subscriber you suckered or shamed into staying aboard; how much is cheapening the user experience worth to you? track the users that react to these desperate pleas and then come back and tell me it's an awesome idea.
It's About time, Instagram
I heard about it before taking a week off from the blog, but waited until not to post about it, in the spirit of not being in a hurry about something important.
Instagram now allows support for multiple accounts. This feature is a must-have for anyone who operates in social media professionally and needs to access those all-important brand Instagram accounts you love to browse so much, in addition to one's own collection of duck-face selfies and cat photos.
This is a vital feature for any platform, and I'm a bit shocked – without knowing any of the development obstacles involved – that it took years for Instagram to offer it. No platform – including Twitter and Facebook- had it right away, as I recall the struggles to manage multiple logins from early social media days, but this should no longer be an afterthought.
Snapchat (Vertical Video is ok now)
Snapchat has been, for some time now, the party crasher of social media marketing. It is complicated in that it appears designed to share messages only temporarily, and remains immature in terms of the ability to measure results of marketing (or any efforts). However, its popularity is undeniable (much as with some other new platforms before it), as is the fact that many brands, particularly media entities, have already populated Snapchat channels. The above story is a result of some of the breathless excitement.
I am still in the "it remains to be seen if it is effect for general marketing" camp, but there is one other effect that Snapchat in particular has brought on to mainstream social media consumption: the acceptance of vertical video.
For a few years, it has been fun to disapprove of vertical video (holding one's phone vertically to take video rather than in landscape mode, and I have been one of those people. Vertical video is generally rendered unwatchable on main computer screens, meaning if you share it widely it looks horrible. The best result of this is the below, of course:
With Snapchat adding to the mobile video craze, vertical video is making more and more sense. I have come around to that, and think that the next move is up to PC-based apps to format vertical video to be more watchable on the horizontal screens. The apps are better at vertical now, not the other way around. Would you agree?
Adapt or die
Random App-lause: Timehop
I'm a big fan of Timehop, as you can get a quick daily fix of what was going on this day in past years simply by your posts in social media. While I would understand an unwillingness for New Englanders to relive last year's harsh February, I particularly enjoy some of the one-off Tweets and Facebook updates now that they have lost their original context, and get some fun out of re-posting them to see if I get a reaction. A typical example: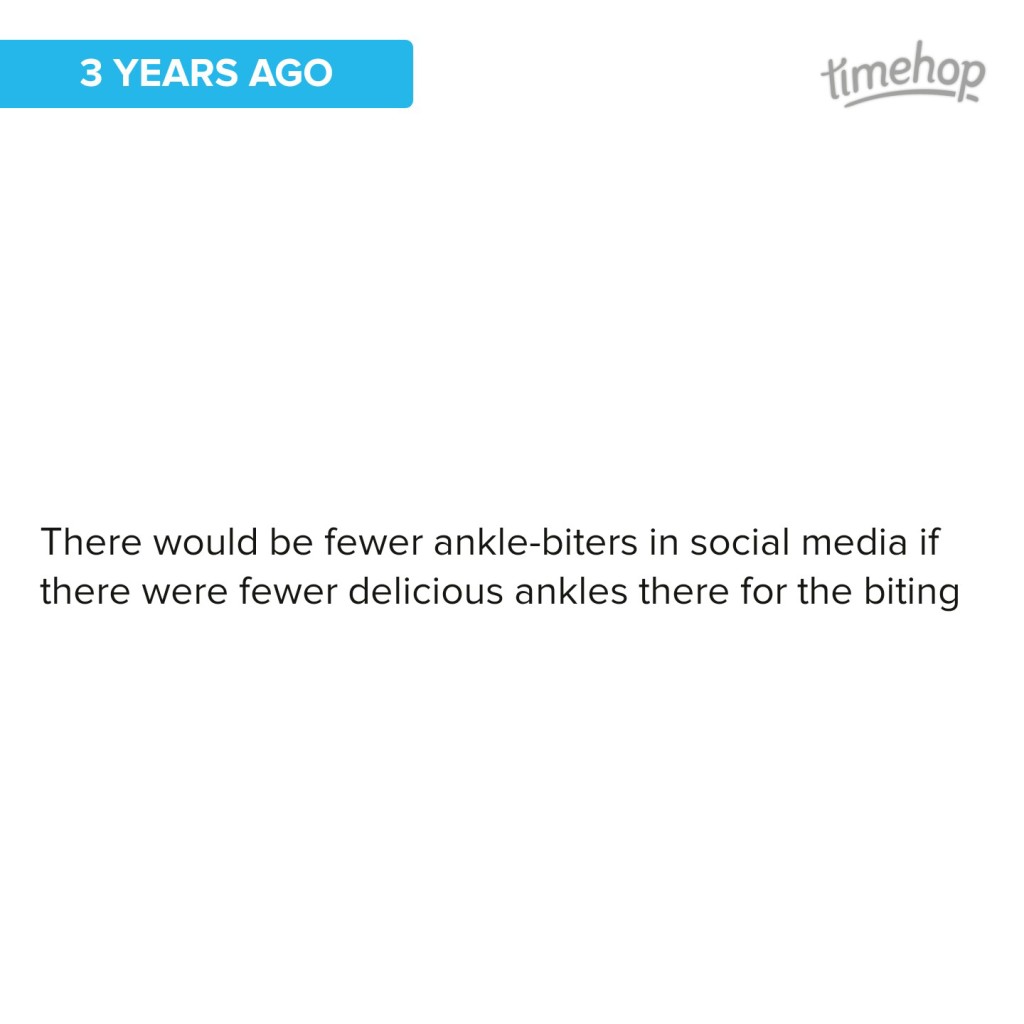 Off to make more odd memories…