Dislike-sia
Is Facebook finally implementing the long-discussed Dislike Button? Of course not. It's a silly idea that makes no sense, not to mention that Facebook has long said it wouldn't do that.
That did not prevent people from breathlessly reporting that Facebook was doing just that after some comments by founder Mark Zuckerberg last week. Of course, it was bunk; Facebook is looking at ways for people to express empathy or sympathy when acknowledging someone's bad news on Facebook- times when a "like" feels awkward or inappropriate). Apparently, simply commenting isn't enough, which I suppose I can understand (or empathize with).
The real story here isn't the button, but that people rush off to publish in this age of the continuous news cycle without considering to absorb the actual facts. There was some backlash straightening out the facts, but the damage continued through the weekend, for example the incorrect original reporting being the basis for a quiz question on NPR's "Wait Wait Don't Tell Me."
Reading is easy. Comprehension is hard.
So for now (and forever), haters will have to dislike Facebook content the way they know best – by trolling, bullying and creative hostility.
Signal for Facebook
Meanwhile, in news about products Facebook is actually introducing, the curation (my word) app Signal is being rolled out for media partners. Signal allows media partners to embed Facebook content in stories. I see it as some version of Storify, albeit limited to Facebook, but likely with some better tools for finding and collecting content.
The real news to me is that this product presents the possibility that Facebook is improving its search. If that is true and becomes available as improved search for all users, that would be a huge improvement; and Facebook will have to improve search if they want to become the de facto Web for people.
Strangers in my Facebook Feed
Small bother, but I had recently noticed more unfamiliar names in my Facebook feed. I wouldn't think too much of it but a few other friends who are power Facebook users definitely noticed the same thing. I haven't found any confirmation that Facebook has done some tweaks to the main feed to show more friends of friends or something like that, but I'm curious, if anyone knows more than I do.
Crystal- Meh? 
Not a Facebook item, but saw a recommendation for a service called Crystal that analyzes a person's online social media and recommends how to interact with that person. Not sure of the algorithm or the accuracy, but here's how you can talk to me, for what that's worth: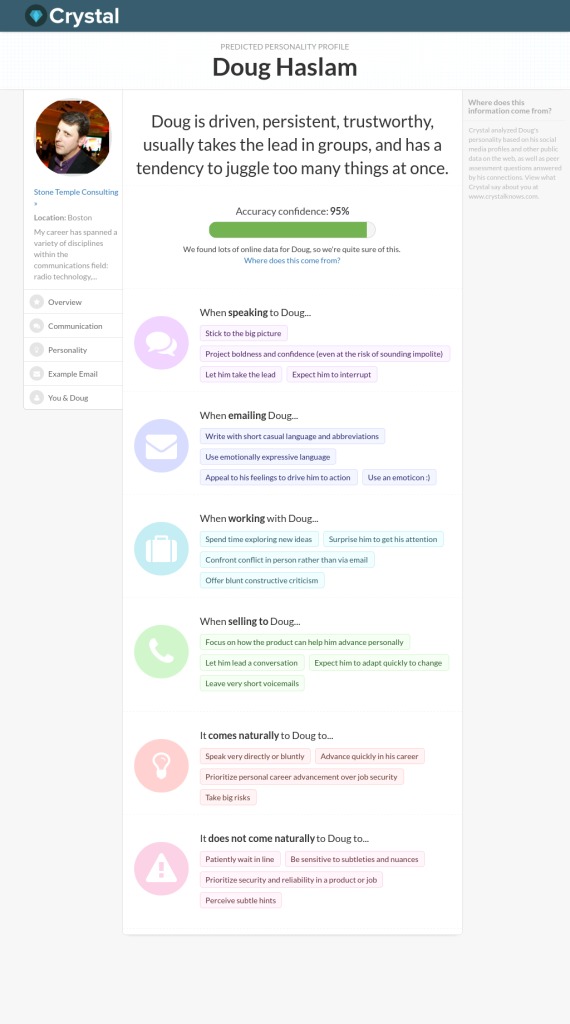 One Last Time – I Repeat: Facebook is Not Introducing a Dislike Button