This August I completed my 7th consecutive Pan-Mass Challenge. The PMC is an annual 2-day bike ride across much of Massachusetts, for which riders raise money that goes to the Dana Farber Cancer Institute.
This year, the PMC raised a total of $41 million, the total just announced this past week.
As for my own fundraising efforts, this year I managed $8,681.28, which brought my 7-year efforts over the $50,000 mark.  When I realized I had hit that number, I was taken aback- to get people to donate money to a cause year after year is quite  feat, dwarfed only by the generosity of those who give.
As I like to do every year, I took a look at the numbers behind my fundraising efforts to identify the trends, in case that helps me do better next year, or helps others understand their own fundraising efforts for their own pet charities
Total Amount Raised
This year's total was my second-highest ever. What makes it more impressive is that the year with the highest amount was a year in which the number was boosted by several donations in honor of my father-in-law, who had passed away from cancer shortly after the ride.
As the "Total Raised" chart shows, the overall amount has climbed steadily over the last three years, which is a good omen for organically growing the amount raised in the future.
Total Donors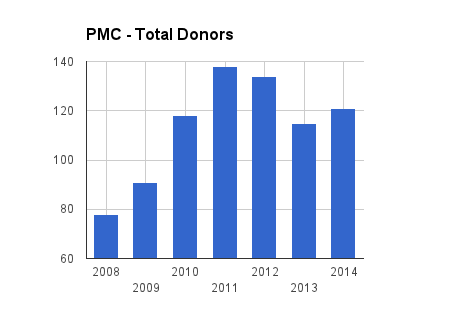 In 2013, my total donor numbers went down, after having several new folks donate between 2010 and 2012 due to family members being hit by cancer. Predictably, the number fell off last year but has recovered a bit for 2014. One factor is a slightly more concerted effort in social media closer to the event; another is that I reached out to "lapsed" donors- those who had given in past years but had not in at least one year – in an effort to bring some back into the fold. Apparently I had some success in that regard, showing that you should not totally give up on lapsed members to any cause.
Return Donors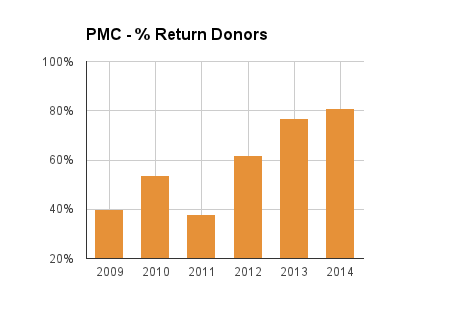 On that note, I counted such "lapsed donors" among my "return donors." That is not so much a change in terminology as it is a recognition that I have paid more attention to people who have donated to my ride going back to 2008. I have no doubt that attention had some affect on my continued increase in % of returning donors, which passed the 80% mark this year. As you can see from the chart, that number has been growing the last few years, though I sense that I will now be trying to maintain that number rather than increasing it much more.
Average Donation Amount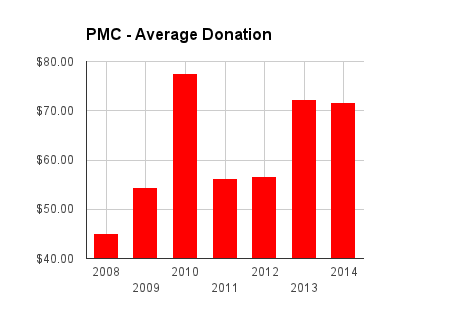 As for average donation, that amount remained over $70 after reaching that level, hopefully for good. While the median donation remained at $50, I hope to keep that level, which is usually dependent on the small number of larger donations (and a handful of matching employer contributions) I receive in any given year.
Last, I want to address the fundraising tactic I attribute to the maturity of my seven-year effort. With a list of regular donors, I have relied more on emails to raise funds, and have been experimenting with the number and timing of my messages. This year, I sent one early on – in March – and then one in June, which is generally the onset of the  peak of fundraising season, and a final one a week before the event, when people are receptive to the urgency if the imminent ride. I wondered if the early message was superfluous, but when I looked at the number, I found it helped get more people than I realized to donate early. Here are the numbers in total raised that I can attribute to the week following each mailing:
March –  $860
June – $685 raised in the following week
July (one week before ride) – $1560
It's not a surprise that the bulk of the money came right before the PMC, but if I had been thinking that the early email was superfluous, the numbers say otherwise. That's a good lesson to remember for anyone doing fundraising- if the message is delivered with the appropriate tact and respect for the time and money of the donors, it's never too early to start.
It will be interesting to see, as a I plan to participate in the Pan-Mass Challenge once again next year, how fundraising efforts develop and change with the new campaign.
Thanks again to all who have supported me. While I do not re-enroll until January, my fundraising page remains at http://bit.ly/pmcdoug.