I guess we'll have to spoil the networks now.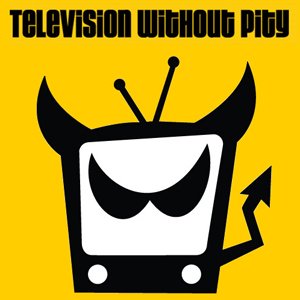 "Spare the Snark, Spoil the Networks." That was the long-time slogan of "Television Without Pity," a web site and community that, its now-owner NBC-Universal recently announced, is shutting down April 4.
Why do I care? For a time, back in the day, I was a very active community member of the site, going by the easy-to-remember name "gischeleman." While I was not a big early Internet user, certainly not pre-web, I had a passing familiarity with bulletin-board culture without the burning need to talk coding (I'm not a coder) or Star Trek (love it, but not that kind of a fan). OK, I'm pushing the stereotype buttons. But after watching the show "24" with my wife and I getting hooked for good after the first episode in 2001, I stumbled upon TWoP, and I was there to stay for a spell. I would devour the snarky and hilarious 8-page (what is a "page" on the Internet anyway?) recaps of the show authored by "gustave," and later by "M. Giant," whose recaps of "Walking Dead" I still read, and then head over to the forums. The forums, ruled with an iron fist (or rod) by the Mods, were a great way to share theories, plot holes, favorite lines, and even VHS tapes. At least once, I managed to snag a VHS copy of a missed episode from a fellow TWoP'er, which I would then pay forward in those pre-DVR days (OK, DVR's existed, but most of us didn't bother to have them). I also reveled not in the plot holes, but in the hilarious nicknames foisted upon the characters; where else would posters have the knowledge to christen Jude Ciccolella's character on 24 the "Poor Man's Hume Cronyn," and even recently dub the buddy cop/android drama "Almost Human," starring Karl Urban (the new Star Trek movies' Dr. Leonard McCoy) as Bones & Yo-Yo?" (See, it's funny because, ah, never mind…)   It was a real community, well-groomed and maintained, smart and snarky, and looking back it serves as a great example of my "nothin's new no more" stance on social media; the platforms change, but they are built on ancient concepts of community and (in the best cases) civility. Bonus? Sometimes the shows' producers and actors would take part and lend unprecedented credibility to these humble TV viewers.
While I read an contributed  mostly to the "24" forums, I moved around a bit as well, most notably to "Heroes," "Star Trek: Enterprise" (home of "Captain Asshat") and "Law & Order" (where posters tried to turn the phrase "Is it because I'm a lesbian?" into a meme- yeah, that word existed before LOLCats). Over time, other interests and commitments took over, and I visited less. I still go back from time to time to check in on "Walking Dead" chats and the long-running single "Saturday Night Live: More Cowbell" thread, but I haven't been the good Couch Potato I once was – "Couch Potato" being the poster designation between "Video Archivist" and the seemingly unreachable "Fanatic" in the active poster rankings.
Some will say the site got less interesting after Bravo (the NBC-Universal property) bought TWoP in 2007; I am not so sure about that. The purchase did bring with it some unnecessary bells and whistles and eventually the departure of many of the original recap writes, but perhaps it was just time for TWoP (and its mascot, Tubey) to retire and admire the legacy spilled across the web like so many classically good/bad TV pilots.
Whatever the cause, in the end, the rod was not spared by the axe.
R.I.P., Tubey