Social Media Club Boston held an excellent event* this past week at Northeastern University titled "The Myth, Money and Business Value of Viral Content." The three presenters each brought his own unique take on the issue, and I had my own personal (if not unique) take from each one. Enough preamble, here are the themes:
Nothing's New No More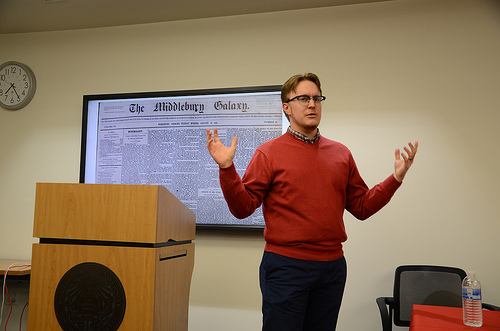 Ryan Cordell of Northeastern has been studying virality of content in the newspapers of the 19th century. Why is this interesting? It gives us a fresh look at the phenomenon of shared content through the habits of people in a different time, using the technology of the day. I won't go into the details of his studies as it is easy to go down rat holes (after all we are talking about viral content), so please visit and peruse the site Cordell set up to show the results of his research.
What Cordell's talk reinforced in me is that everything we – in the social media marketing space – hail as "new" or "revolutionary" is often a very old concept wrapped in a fresh coat of paint (or a new technology or medium). "Viral" content was not invented with YouTube, and it probably doesn't start historically with the 19th century spread of newspapers either. We are always reinventing what we do – perhaps making it faster, using different memes (that's not a new word either, so there). There is always something to learn about what we do now from what came before, even if it's to discover that what we are having trouble learning now (why do people share, what makes something a sure-fire "viral" hit, etc.) was giving people fits back then as well.
By the way, an interesting side note is that Cordell is the man whose children started the "Dad will give us a puppy if we get a million likes" campaign on Facebook – remarkably, that was not part of his research but did end up being a great case study in viral accidents and how hard they are to replicate.
The Story of Viral Content is a Journal of Irreproducible Results**
Rob Ciampa of Pixability takes great glee in destroying the myth of viral content. Many of us grumpy folks in the social media world pooh-pooh the notion of making a viral video, but Ciampa puts a practical argument behind such corrections. Of all the points he made about platforms, targeting and execution of videos, the one that really sticks is this: most viral video successes are one-offs. There is usually a second video, sure, but they tend to fail in becoming viral for various reasons (remember the second "Dollar Shave Club" video? Me neither).
So- after realizing we are not breaking new ground in creating sharable content, now we must remember that marketing fundamentals – and good content – are key to ensuring  that content is effective, rather than worrying about making a "viral sensation" as the primary driver.
Ongoing Success Trumps the One-Hit Wonder
The final panelist, Matthew Wade of My Silent Bravery, performed a pair of his songs for us. This would be enough to cap the night by itself, but he also gave his thoughts on "viral" from the point of view of an artist trying to get noticed. I'll distill his talk into this quote (paraphrased, so if I get it wrong I hope someone will correct me in comments):
"My approach is more of a long term goal. It's really about trying to build your audience and your fanbase. You can have a million views but if you only have five subscribers, where is the built-in audience for your next video?"
*I can say it's excellent without sounding like  bragging jackass because I am not currently on the SMC Boston board.
** But not the Journal of Irreproducible Results