Last week, Social Media Breakfast Boston convened once again: this time at the office of Racepoint Group, for a discussion titled "The Evolution of PR, Marketing and Digital – What's Next for the Agency World?"
I had been giving a lot of thought to this question over the past year, so I was eager to hear the opinions of the panelists and the questions from the audience.
I decided to distill each panelist's spiel to one word, with the commentary a mix of my opinion and what the panelists actually said:
Dan Carter, Racepoint Group: CONVERGENCE
Having recently folded the sister company Digital Influence Group into Racepoint, Dan speaks from experience, seeing a greater need for a unified set of varied offerings, rather than a different agency for each need. The drivers for this? From a business standpoint, it's a function of where the budgeting authority is coming from. From a professional standpoint, I personally have seen the need to make sure we put the different aspects of services together, the better to serve clients and win different types of business.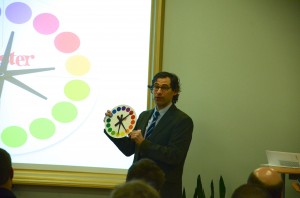 Seth Bloom, FleishmanHillard: CONTEXT
Seth used the game of Twister to illustrate his point: a game spinner with all one color and one hand would make for a very boring game; if you have a single service offering, people know what you do, but are you able to adapt to the needs of a client, which are usually customized and certainly mutable? The ideal is not the typical Twister spinning arrow piece, but actually one with greater shades of colors; more choices of services to be able to offer for each unique agency/client relationship.
Eric Fulwiler, Mullen: DIVERSITY
Eric is actually the one who used the word "context," but this is my blog post so I am assigning key words where they fit in how I interpreted the talk. Mullen's presence on the panel was unique in that it is most readily identified as an advertising agency, rather than PR. Still, Eric's citation of the need for social to sit within all communications disciplines rings true throughout the agencies represented: will social cease to be a separate practice? I see a trend in that direction, as the need for social media to support, rather than stand apart from, PR, advertising and marketing means that all agencies need to diversify their offerings in order to serve a more complete communications mandate: and professionals, while likely remaining specialists at some point in their careers, must be able to reach across the lines of paid,  earned and owned media more readily.
Christine Perkett, PerkettPR, Inc.: FLEXIBILITY

Christine spoke from the point of view of a small agency; the need for flexibility becomes evident when an agency's services do not solely serve their traditional constituents (e.g. the marketing department). We may be doing work for customer service, or even sales or HR. Being able to adapt core skills to serve new masters is key in this context (there's that word again).
*************************************
The most interesting part of the Q&A to me was the discussion of talent. What skills does one need now? The answer, I think, lies in what I wrote above: that specialization is a way in to the industry, but the need to understand and be able to bring together the different strands of the communications mix becomes more and more important – to professionals, as well as the companies and agencies they work for (or start).
Is the PR agency world converging? Will it bring a collision with the ad and digital marketing agency world? What does it mean for careers and for the future (or even the existence) of current agencies? My only prediction for 2014 is that we will be asking these questions mare and more, especially if we are not answering them.