In lieu of a "real" blog post, some thoughts that leaked out of my ears:
If you Tweet that people are "doing it wrong" – you're doing it wrong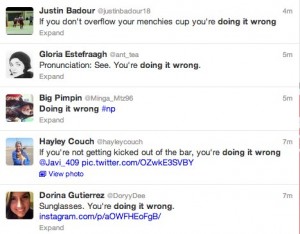 People have "personal brands" about Personal Brand (or against Personal Brand). No, really.
The only thing requiring more effort than making video (even good ones) is watching them.
"Video is Hard" Part II: this is part of why Vine is a hard sell for me.
It is tempting to ridicule people for posting highly personal, navel-gazing posts on public forums. Why is it not as tempting to properly ignore them?
What is more useful to you: advice or observation?
Is it really such a burden to look at food photos? Admit, you secretly love them
Do you still listen to podcasts? (I do)
List posts: informative and easy to consume? Or lazy anti-writing? Should I call this a Top Ten List for better SEO?