in my cynical, skeptical way, I have spent the last several months heaping doubt and scorn on Pinterest and Instagram, mainly as a hedge against the people who seem too excited about either of these being the "next big thing." I have, some of you will like to hear, since started truly enjoying these services. But I did have real doubts. Both are based on images, and don't allow more complex expressions of text, video and audio. Neither is focused on housing things on your own site- they are really spokes in the hub-and-spoke world of social media content, aren't they?
Instagram, in particular, seemed limited to me. Not only was it only available to iPhone and iPad users until the beginning of April, severely limiting the availability and alienating Android users (again, they solved that), but the content was limited as well. It's basically a preset group of filters meant to shock and abuse your photos' color and lighting to hide the limitations of smartphone camera. Yes, it was fancypants doo-dahs masquerading as art.
As I has recently been involved in a family photo scanning project, I liked to joke about the limited appeal of making fresh photos look like they were shot in 1962. Quick, which of these is from Instagram?
I should note I thought about this post before Facebook announced they were buying Instagram for $1 billion. Um, wow.
Pinterest? Again, the content is limited to images. It's not a be-all social network. It would be nice to embed these pinboards into your own sites (something I expect will become a real feature at some point); then, it would be a nice complement to your own content on your own domain (yes, your blogs. Blogs are awesome).
For my snark, I started boards dedicated to my personal bete-noire, infographics. Items from my board on "Infographic Crimes Against Humanity" (yes, I blogged about this recently, sue me) have been repinned without regard for context to "Sexy Infographics" and "Great Infographics" boards, sometimes with my withering remarks intact. Suit yourself, I guess. I should also mention the seeming lopsided appeal of Pinterest to women and the more obvious utility to retailers of "stuff" over people trying to convey "ideas."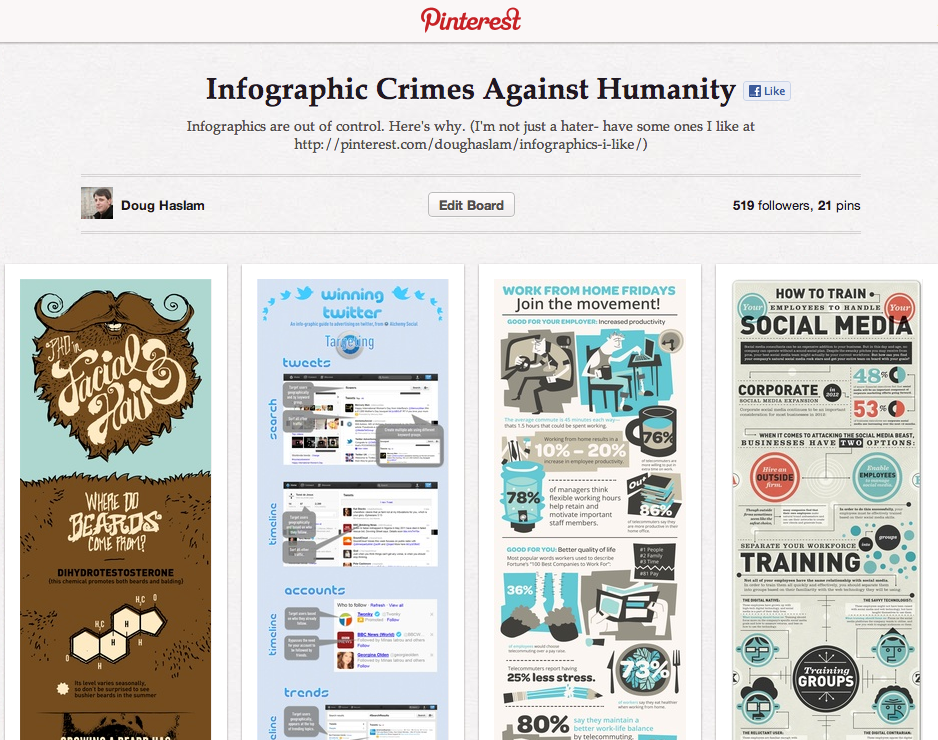 Limited.
However, in actually using these, I found one thing to be true that shook my skepticism, almost wiping the sneer off my face. When I posted content? People shared it. Almost instantly. While I still chafe at the limited type of content, that very simplicity along with the attractiveness of the visuals creates an instant, addictive, appeal (even with the rather ridiculous lack of context in some of the repins as mentioned above).  That makes using these tools more fun than research, and backs up the contention- to a point- that these are the "next social networks."
That's great- but how can I apply this to the primary content hubs yeah, those blogs that are supposed to be dead), to spice up the activity, make them less stale, and re-energize our whole streams of content? That, I suppose, is the next step.