UPDATE: I am officially signed up for the 2012 Pan-Mass Challenge: to sponsor my ride (and make these graphs prettier next year), please go to http://bit.ly/pmcdoug to donate. Thanks!
Last year, after riding in my third Pan-Mass Challenge (an annual two-day bicycle ride/cancer fundraiser), I thought I had enough of a track record to look at fundraising trends. In that post, I saw the rise in overall fundraising, number of sponsors and average donation amount as the progression of an improving fundraising effort and the expanding reach of my social networks. This year, the numbers were different but still interesting. First, the fundraising total shrank for the first time: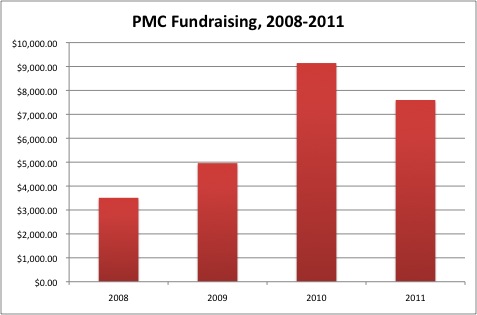 While an organization may see this as alarming, I should add that I once again surpassed my goal; after 2010's success, I upped my goal from the minimum ($4,200) to the "Heavy Hitter" line ($6,300), and actually had little problem making that mark. I see the $9,000-plus total from 2010 as somewhat of an aberration– not in success, but in the amount of it, as several one-time sponsors donated late last year in memory of my father-in-law's passing (the family had actually steered people to the PMC in the obituary, a fitting tribute). Despite the "one-time" donations in 2010, I still saw a sharp increase in sponsors from 2010 to 2011, the most encouraging number in the bunch. The message of the PMC's cancer-fighting cause continues to spread: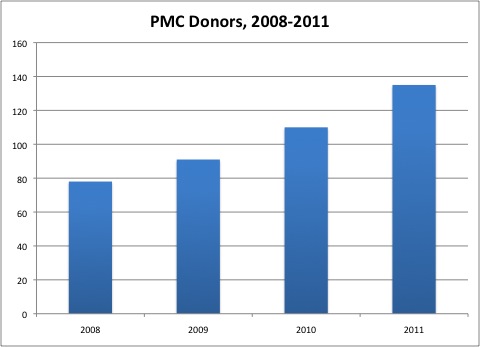 Repeat sponsors was a bit of a mix, but again no surprise: more "repeats" donated this year, with the falloff in percentage a factor of the ever-growing total number of sponsors. I can probably do more to keep current donors involved and perhaps get the repeats up over the 50% next year.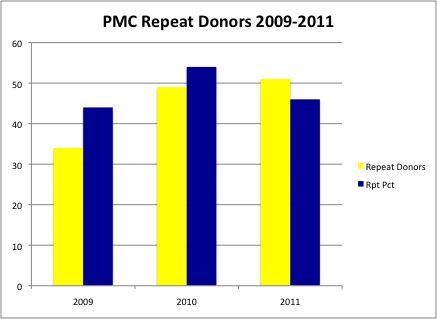 The average donation fell off, close to 2009 levels. The major reason for this was that several of my "corporate" donors, people representing organizations that generally donated in the $500 range, did not repeat this year. The median donation was still $50, meaning that individual donors were not giving less, as this number might indicate and for the short-term that will continue, I suspect. So, the drop in average donation is not so alarming, though if I were a non-profit organization I would be concerned about the corporate sponsor drop-offs (and would certainly welcome them back, hint-hint).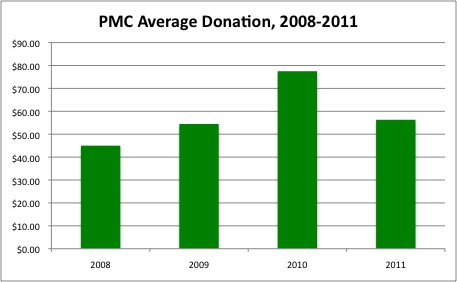 Putting the numbers in perspective: I am happier with the increase in people sponsoring than I am disappointed at the lower dollar amounts. If I were an organization I would have some concern about the dropoff in larger "corporate" donors, but as those have been outliers in my case rather than the primary targets I cannot be totally surprised.
For 2012? I will target getting more repeat donors while continuing to increase my base of generous sponsors as well as my overall fundraising target. I hope the look at numbers does not make my PMC fundraising seem too clinical- as I sincerely appreciate each and every sponsor, as well as others who support me in various ways.  On to 2012!