Periodically, I have mentioned "Personal Brand" on this blog. It's a controversial term, partly because the idea of having a personal brand brings with it the danger of putting your ego in front of anything else of value you do. Of course it doesn't have to be that bad, but I understand the concern. The person I most associate with the debate over personal brand is Geoff Livingston, who has written largely disparagingly about it in the past, though I have found in disagreeing with him that our differences are largely semantic. It takes a su of individuals to make the social web go around, just as any company is the sum of its individual employees.
As I was reading through Geoff's latest book, "Welcome to the Fifth Estate," there was a mention of Personal Brand again, along with the dilemmas it brings for corporate social media programs. How can a company let an individual voice the corporate social media channels? Can a person with a peculiarly individual voice truly represent the brand? Will there be clashes of egos? What if that person leaves after becoming so identified with the brand?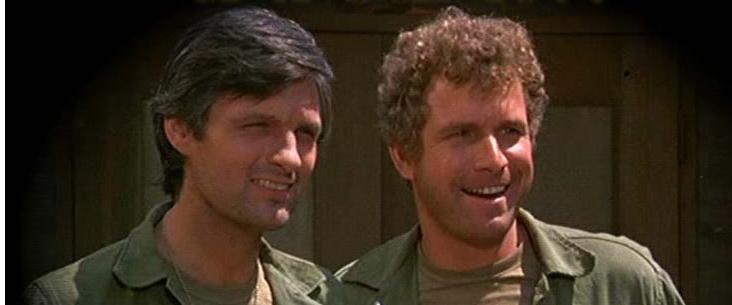 As I saw the mention go by, I suddenly thought of an "ism" I had long referred to when contemplating the passing of any torch. It, of course, is the "Trapper John/BJ" effect, referring to the characters from the television show M*A*S*H. The TV show, based on a popular movie, itself based on a notable novel, revolved around two central characters: Hawkeye Pierce and Trapper John McIntyre. Fans of the movie could hardly imagine the show continuing without one of these stalwarts, right?
Well, actor Wayne Rogers, who played Trapper John, left after three seasons (the TV series ran for eleven years). Trapper's replacement? B.J. Hunnicutt. While B.J. was hardly the same character, he filled the same role, brought his own traits to it, and the show continued seamlessly, continuing to
thrive. Not only that, but other major characters were replaced as well: Col. Henry Blake left at the same time to be replaced by Col Potter, and M*A*S*H patsy Major Frank Burns eventually departed as well, in a similar manner to that in the film, to be replaced as a foil for Hawkeye and BJ by Major Charles Winchester.
Too many details (Hey, I was a big fan), but the point is: the entity remained whole, even with some very identifiable – and seeming irreplacable- individual parts changing.
As for social media in corporations, the worry that a standout personality will risk crippling social media efforts when that person leaves should not be a worry at all. A company just needs a succession plan, and then someone to be the successor.
Every company needs a B.J.