1- I Don't Hate All Infographics
I have posted here grumpily about infographics in the past. People rely on them too much, many of them are too busy, and rather than simplifying a complicated topic, they often make a simple topic terrifyingly complex. These things are not shiny tools to make your blog post look pretty. Every image on your site should have a purpose.
This past week, I found a couple I liked.
This first one, a fun graphic from Sixteenwins.com outlining the bar tab the Boston Bruins charged up for their Stanley Cup victory celebration, is great. It doesn't violate my senses or give me a headache, and any tennsy weensy bits are ok to ignore, as they graphically support the one huge theme: a $156,000 bar tab (I'd love a bite of that tip):
The second is a little gaudier, which leaves me queasy, but still leaves consumption of the details optional, all in service of the major point- showing what happen on the web in a typical 60-second span (h/t Neville Hobson, infographic by Shanghai Web Designers):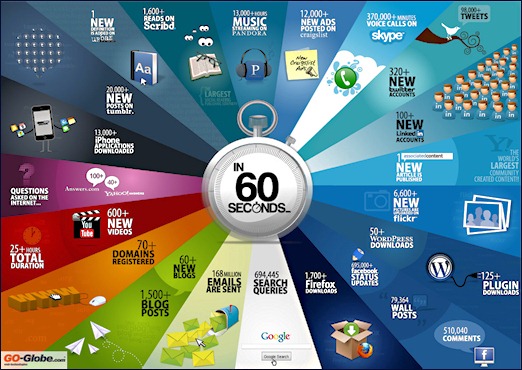 See? I'm not always grumpy.
2- You Don't Have to Like a Venture to Tip Your Hat to the Results
When my friend Chris Brogan started his $10/month "Blog Topics" venture, many people, including me, jumped on it, questioning the value of the service. Chris' main defense was to essentially yell "Scoreboard!" and point to the number of people who signed up. Ok fine, but I still wasn't sold on the idea of a one-size-fits-all blog topic ideas newsletters for people with, presumably, all sorts of different blogs with different audiences. I'm still not, but I do want to give credit to Chris for publishing examples of blog posts by customers who use the service. So, it's not for me, and I'm not going to trouble to try to judge the posts or blogs involved, but– good move. Show results.
Geez, there I go again being all positive.
3- Why I Changed My Facebook Avatar
In my grumpy persona, I say I never change my avatar on social networks; too many silly celebrations, and it clouds my identity online for… what, exactly? Well, I made an exception this past week, as I joined friends in supporting Jennifer Stauss Windum's WTF (Where's the Funding?) Lung Cancer campaign. During a recent health scare, Jennifer brought sock monkeys to her mother, who has Stage IV lung cancer (no, she never smoked). I'm ambivalent to cute, but I was certainly willing to show my support by changing my avatar in support- after all, I changed my avatar to honor my father when he passed from pancreatic cancer. Jennifer writes more about the sock monkeys here: http://www.wtflungcancer.com/the-power-of-facebook-groups-punks-sock-monkeys/.
4 – Media Bullseye Radio Roundtable
I resumed my monthly guest-host duties on CustomScoop's Radio Roundtable podcast, talking with Jennifer Zingsheim about QR Codes (no, they;re not dead), Klout-gate (not  scandal but an interesting-yet-deeply-flawed Facebook venture), and the notion of "loss of control" of a brand in social media (see #5)
You can play or download the podcast on the page linked above or by clicking this link for the MP3 file.
5 – Loss of Brand Control? Are we Really Still Talking About This?
I've been way too positive in this post, so here goes; a post by John Haydon over at Razoo had a nice point, that nonprofits need to consider that their constituents support the cause (or the brand) for wildly divergent, usually quite personal, reasons. I agree wholeheartedly and extend that thought to how brands, ideally, would consider their own customers. Unfortunately, the post brought up a notion that makes me steam: that companies ad nonprofits somehow "lose control"of their message and brand on social media. This has made me nuts for years; nothing has changed with social media, in terms of brand perceptions. Sure, it's easy to see what people say about you in social media channels, and now they'll say it to your "face." However, the idea that people didn't take apart your brand in pre-social media days is silly.
Want control? Have a good product, service and message. People will gladly parrot your messages if they are good, accurate, and portray something they like. Why should they spend the time and effort making up their own branding for you – unless you force their hand by force-feeding them something they hate? Be good, and you keep control.