I drive a Honda Fit (2009 Sport model), and love the USB connector in the dash. Not being an iPod owner, I use it to connect a thumb drive that is big enough to hold as much music as I can stand. There were a few obstacles to getting this just right, however, and I thought I would write about the process here in case anyone else who had issues and like me is a not a super tech-nerd but can handle some hackerish tasks. Gere's how to format a USB thumb drive for cars, the way I figured it out:
First, the problems:
The Fit (and possibly other cars) are picky about formatting: I needed to format my disk in "FAT32," but on my Windows 7 lap top with a 64GB drive, that option doesn't show up, only NTFS and exFAT. When I tried to use a drive formatted with either of those options, the car would not read it.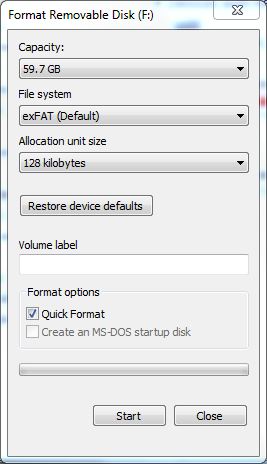 The car stereo would not display all of the folders:

I discovered that if you have more than 700 folders, too bad (it's easy to have that much music on 64GB. The car would read the first 699. You could play any track in random mode (I realized this when Velvet Underground tracks played even though I could not find the folder), but you couldn't go select the tracks manually.
Folders would not appear in any logical order:

Actually, it's perfectly logical for folders to appear in the order you placed them on the disc, but that doesn't help you when you have scores of folders you might like in alphabetical order. The tags in the MP3 files don't always help, either, especially if you have a single folder for one artist drawing from several albums.
So, on to the solutions.

Limiting Folders: That was a simple matter of being more efficient in how I copied music on to the USB drive, creating one folder for each artist (for the most part), and  then finding away to arrange the files in order (next). That got me well under the manageable number of folders.
Rename the Song Files: The forum poster pointed me to an MP3 re-tagging utility. It turned out to be pretty easy to use. I renamed the files (once copied to the USB stick, never touching my originals) to display the album name first to group albums together within artist folders, then track #, then name. The images below show the process for renaming one of my albums, but you could do the whole shebang in one stroke. One thing I could not figure out was the code for shortening album titles so I could cram more info into the short car stereo display (the example in the post didn't work for me), but otherwise it worked well.
On to sorting the files: The forum post pointed to this file sorting utility, which overwrote the default ordering (folders pop up on car display by date modified) by letting you order them as you wish. I, of course, chose alphabetical. The example below shows me adding a single folder (Nick Cave") and putting it in its proper place.
Now, I can find any file by artist, rather than searching through jhundreds of artist and album folders in seemingly random order. Plus, when I add new purchases, I can slip them into the proper findable order as well. It was a bit of picking to find the process, but now that I have it it is reasonably easy. I hope this helps anyone else out there looking for a similar solution.