For the last three years, I have raised money for the Dana Farber Cancer Institute in Boston as one of 5,000 riders in the Pan-Mass Challenge. Due to the fact that many people in my city (Newton, MA) also ride the PMC, and the fact that I do a lot of online social networking for fun and for work, I have conducted the bulk of my fundraising online.
While raising money to combat a disease that has affected most of us in some way is an experience fueled by emotions, I thought I would take a more clinical look at how I used social networks for fundraising.
First, a look at the numbers. As you can see, fundraising totals have risen each year:
Meanwhile, the number of donors each year has increased as well: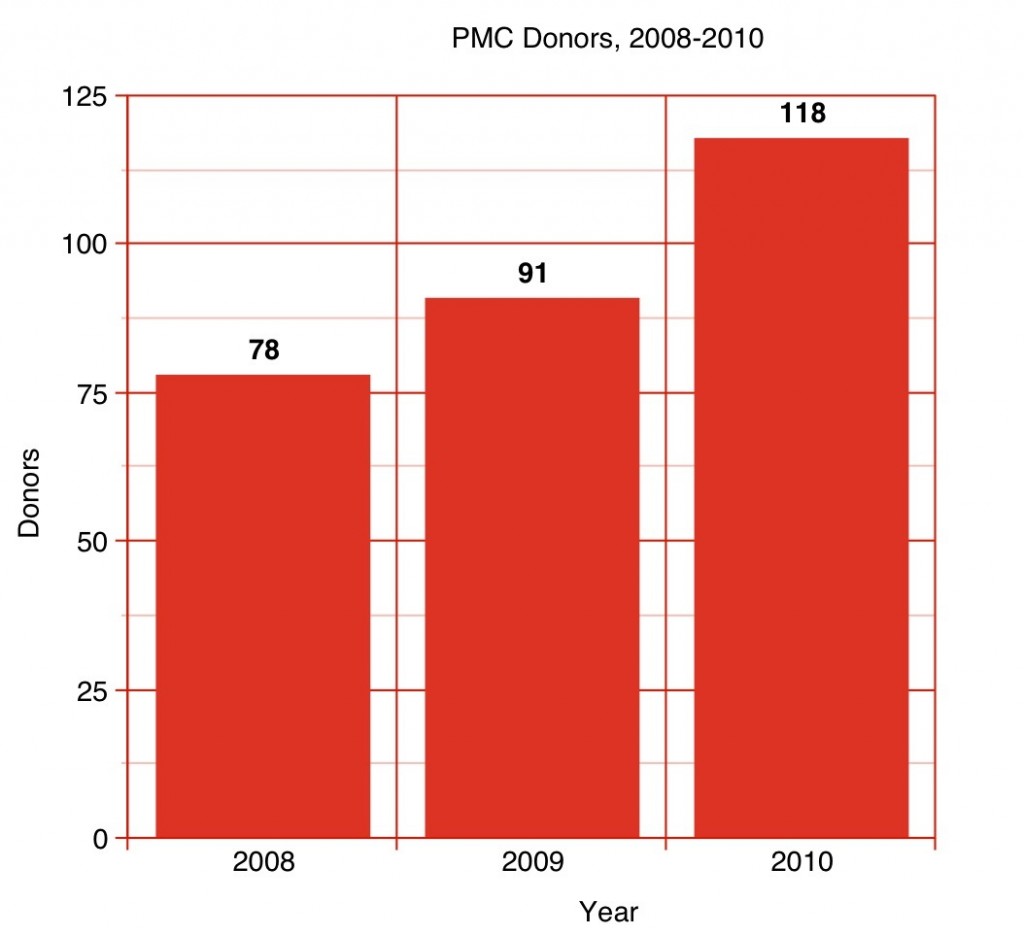 As has the average donation:
Importantly, repeat donors- and the percentage of those repeating- has gone up each year.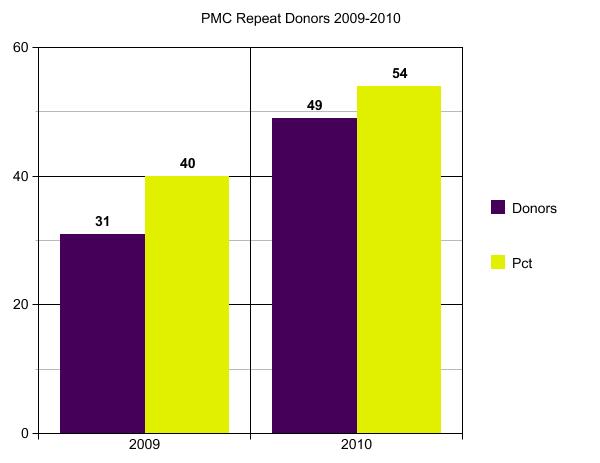 So how has my fundraising been increasingly successful, despite a lingering recession and competition from other cause-related fundraisers?
Social Networks Have Increased Exponentially
When I first rode the PMC in 2008, I was approaching 4,000 followers on Twitter. That was not bad at the time for the young service, but that number is over 25,000 now, and the reach of my appeals has increased correspondingly.
My Facebook network is much more modest. Also, in 2008 I don;t think I had many Facebook friends who were not also on Twitter. By 2009 that had changed drastically, as high school and college classmates, as well as family members and other friends, streamed onto Facebook. Starting with that second year I felt I was reaching  different crowd.
My use of social networks to raise money in the first place was born from the fact that hundreds of people from my home city, Newton, MA, ride the PMC. I knew I couldn't count on neighbors alone to raise the minimum amount. Plus, my work as it related to social media meant that I should experiment as much as possible to see what works.
Media Helps
Early on, I recognized that using video would help make my fundraising appeal more entertaining. So, I found ways to attach video camera to my bike and took training videos to share with my friends.
Here's an early one, from 2008:
Personal Touches Help
One thing I made sure to do was to keep things personal- always thank people as I should, respecting privacy but doing so publicly as appropriate. In year 2 (2009), I asked permission to profile sponsors, in a series that created a bit of interest (or at least some appreciation).
Also, I found it important to send hand-written thank you notes. I cannot tell you how gratifying it is to see people remark how pleased they are to receive notes. I overcame a little shyness to include a picture of myself from the ride in each note- to bring a little bit of the event, and proof I participated- to the people who opened their checkbooks for me and the PMC. Also, I hope it inspires others to remember these traditional, offline methods of giving thanks.
Edit: Adding a photo to emphasize the point that visual media help draw attention to your most important content.
In the end, I believe that creating goodwill, while being insistent and not forgetting to ask for the donation (and not being afraid to do it frequently), has been important. That's pretty old-fashioned, but coupled with the increased reach that social networks afford, it creates a pretty effective way to do good.