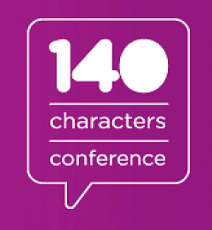 Wow, it's September already– kids are back to school, the beach and summer camp are but memories,- and the work-related activities are already ramping up.
Next week (September 14), Jeff Pulver & Co's 140 Characters Conference rolls into Boston (at the Back Bay Events Center). 140, of course, is a reference to Twitter, though as has happened with PodCamp the topics will spill outside of Twitter into more generally useful communications advice, case studies and stories.
I am honored to be selected among the speakers– I will bother people for a whole 10 minutes at 2:30 pm on "Finding Your Voice on Twitter." As I hinted above, it's not just about Twitter (how can it be?).
What I am really interested in is hearing from the variety of other speakers, from:
That's just a few– I left out a ton of fascinating folks (including many of my friends in the communications industry), but there's too much going on.
Will you join us? I promise to be brief, and plan to learn a lot from everyone else there.