The Pan-Mass Challenge is in less than two months (August 7-8)! Fundraising and training have both picked up. Here's a short update below- and to join in as a PMC ride sponsor to help beat cancer, please go to http://bit.ly/PMC2010– and thank you!
I took off last Saturday (June 12) on what I thought would be a solo ride, only to be overtaken by the Crack of Dawn riders. It's a lot nicer to ride with people (not to mention faster).
After finishing the CoD "pre-ride" with the group, we collected at Nahanton Park, the first time I joined the Saturday groups on their rides through Dover.
I was actually in tough shape that day and slowed at the end, but I had a nice ride and logged 42 miles in all.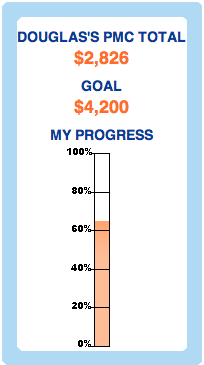 Pan-Mass Challenge: (Not a) Solo Ride from Doug Haslam on Vimeo.
Postscript: I hopped back on the bike Tuesday, June 15 with a pair of my riding buddies, and our customary short weekday ride was our best yet. We rode in a paceline and had our fastest-ever training time. I think we will be ready!
The PMC is a charity ride in which we raise money to benefit the Dana Farber Cancer Institute in Boston. 100% of the funds we raise pass through directly to the charity. Last year riders raised $30 million, and over 30 years that figure has totaled $270 million!
Please help me fight cancer by sponsoring my ride at http://bit.ly/PMC2010, and help by spreading the word. As of this posting I still have $1400 to go!