Facebook Changes Brand "Fans" to Brand "Likes"
I get the idea that asking people to "like" a brand is likely to get more people than asking them to be "fans." I also understand that that lower barrier, equaling more fans likers, also equals more potential ad revenue for Facebook. Well played.
Like is so well-used for posts in Facebook, I was wondering if there are some other terms that Facebook could use to replace fans on corporate Facebook pages. Here are my suggestions:
Non-Aggressors
Sympathizers
Fellow Travelers
Comrades in Arms
BCFs (Best Customers Forever)
Any faves? No? Can you do better?
Conversations with Community Managers: Back into Podcasting
This past week, my new employer, Voce Communications, launched a podcast in partnership with The Community Roundtable. "Conversations With Community Managers" kicks off with an interview of Blue Sky Factory's DJ Waldow. Mosey over to this post to get the podcast.
Also, subscribe to it here:
I hav been having a blast producing the podcast with The CR's Jim Storer. I love podcasting, as it gets me back to my radio/audio production roots. And I am working with great equipment this time around, which I hope is reflected in the finished product.
My Favorite Pun of the Week (iPad Edition)
I couldn't help recounting this Twitter exchange with my Voce colleague Chris Thilk. I'm so proud of myself (warning- flammable mixture of tech geekery and comic-book nerdism):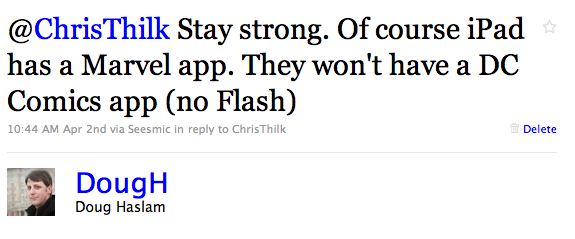 *rimshot*
I Give Up: "Douche, Douche, Douche"
Not long ago, I called for people to stop using the term "douchebag" so readily in social media circles. When I noticed even female friends of mine using the term over and over, I knew I would lose. Now, I officially give up; PostRank is getting attention for its influencer ranking service by introducing- wait for it- "DoucheRank."
*sigh*
When "Douche" becomes part of corporate branding (outside of the hygiene products industry), then the term has been fully embraced.
I guess that's better than (redacted).
Death of the "Interactive Agency of Record?"
I hate predicting the death of anything, so I won't jump on board this totally, but… according to this post by Andy Beal in Marketing Pilgrim, Forrester Research is predicting the death of the interactive agency– well, eventually.
I hate being ahead of the curve, espousing things that just aren't ready yet, but in retrospect that's exactly what I was doing when I clung to the idea of the intermingled "traditional AND social (or interactive, digital, whatever) agency. There is still a need to have separate buckets for traditional and social PR and marketing, so long as social media are new and agencies, let alone their clients, are still figuring out what it all means. My recent job search underscored the trend that agencies are still seeing the need, and when resources dictate, keeping people and divisions that are digital/social/whatever "specialists." Those were the roles I was looking at, and that was the role I landed with the Voce Connect group within Voce Communications.
So, death of interactive agency? Maybe someday- and to be fair, the Forrester report does not say this is imminent, but more of an eventual trend.