SXSW: Geek Spring Break or Great Business Opportunity?
I debated whether or not writing something about SXSW Interactive was even relevant for me, but then realized a lot of the people that read this blog are at the conference as I write this. The most-asked question about SXSWi is, is it "Geek Spring Break," or as Christopher S. Penn puts it, the "single best opportunity to ruin your personal brand," or is it a valuable business prospecting and networking opportunity? Too many good friends insist on the latter, while the people who make it the former are probably wasting their (or their employers', or clients') money and time. The best representation is probably this snide column from Paul Carr of TechCrunch, who looks down on SXSW and its attendees while also panning to lead a session there.
As I see it, the choice is yours, Mr/Ms Attendee. What do you think?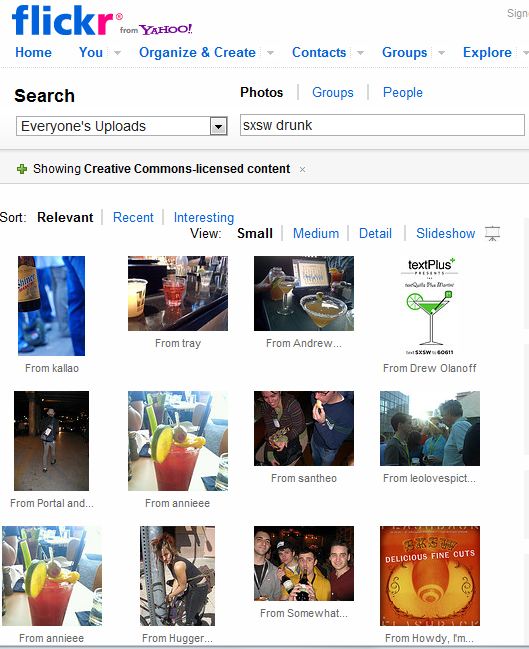 How to Find Out How the Pros Use Twitter
Ask them. Leave it to an original thinker like Justin Kownacki to come up with a new method for discovering information. I might try that more often. What is most interesting from the answers to the questions Justin asked to a number of Twitter power users (myself included, which is why I'm trying not to use the word "influencers" he does) is that it gives a little insight s to why having a lot of Twitter followers is (mostly) a good thing. We see so many schemes advertised to build up a Twitter following, but not enough about how to use it. As for me, it's great to have a greater potential of touchpoints thanks to an expanded Twitter network, and the meaningful relationships that come out of this network, while a very small percentage, come in greater number as a result.
Blogs Over Twitter for Content? You Don't Say?
Actually, venture capitalist David Hornik says it. I agree that one of Twitter's best primary uses is as a way to point out more substantive content, not merely as content itself. And while blogs may be better search engine fodder than Tweets, as Hornik points out, I wouldn't go so far to dismiss Twitter as search engine bait. I speak as someone whose Twitter page ranks sixth on Google for a very common word (as of this writing), and has been as high as second. As we have seen, Twitter has only been showing up more as search engines add more "real-time features, making prolific Tweeting a very important part of an overall search dominance plan.
Will There be a Concerted Move to Get Companies to Stop Blocking Social Networks?
I don't know, but B.L. Ochman has another in her fine series of social media lists, "Five Reasons Why Companies Should Not Block Employee Access to Social Networks. Read the whole post here, but the five reasons listed briefly are:
Resistance is futile.
Don't assume people won't find other ways to waste time.
Social networks actually can make workers more productive.
You'll miss great ideas.
Employees are much more trustworthy than companies think.
The fears that B.L. tries to push back on here are actually understandable, but the last point is key: trust. A little trust brings back goo returns- or may be a better way to flush out rotten employees who abuse the privilege of access (let's be real, it's not really a right, is it?), who might be otherwise skating by on less visible poor work and behaviors.
Worth mentioning here is the effort is the StopBlocking.org site, a longer-range effort to outlined the case for remove barriers to social media use in the workplace, spearheaded by Shel Holtz.
For Immediate Release, Here I Come
Speaking of Shel Holtz, I will be co-hosting the communications/PR/social media/etc. podcast "For Immediate Release" with Shel, taking over for an absent Neville Hobson, on Thursday, March 18. This is the granddaddy of all PR podcasts, one that has inspired so many others (including "PRobecast" during my Topaz Partners days).  To say I am looking forward to this is an understatement.