All of a sudden,  I'm hitting the conference circuit this autumn. Here is a summary of the upcoming events I will be at (and, I am flattered to say, speaking). While I don't particularly care to toot my own, horn, this is the best place to keep all this information straight– and hopefully some of you are attending these shows- or are in these cities– and we can say hello in person!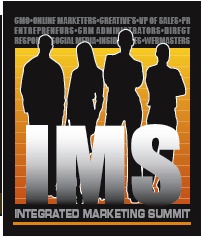 Integrated Marketing Summit, Kansas City, October 8: I am looking forward to seeing good friends Zena Weist of Embarq and Bryan Person of Liveworld (and also the founder of the Social Media Breakfast).  I will be leading a talk (I say "leading" rather than "giving," as I hope for and expect lively audience participation) called "New World Buzz: Where PR Meets Social Media" (2:30 p.m.), which will cover the integrations of "traditional" PR and social media.
I have never visited Kansas City before, and in particular, I am fascinated to be staying at the Kansas City Hyatt Regency, as I am old enough to remember the 1980 walkway collapse, one of the deadliest structural disasters in recent memory. I know that sounds morbid, but it is a big, memorable event in our recent history.
(Second side note: being there means I will miss the Inbound Marketing Summit in Boston. I have a feeling people will get the two confused on Twitter– and I'm not sure, in terms of subject matter, it will make a ton of difference).

BlogWorld Expo, Las Vegas, Oct 16-17: It has been way too long since I have been– actually I have never been to BlogWorld, but did attend the Podcast & New Media Expo in 2006, which is now part of BlogWorld.  There, I am pinch-hitting for SHIFT Communication's Principal, Todd Defren, to talk about "How Bloggers Can Benefit From PR and Vice-Versa" (Saturday, October 17, 12:45) That's a hot topic, at least from where I sit- and should be fun.
At the Podcast Expo in 2006, I made a lot of friends and contacts (both business and personal) that I still keep today, so I am excited about seeing old friends and expanding that circle.
SIPA Mid-Year Marketing Conference, Miami, November 11-13: This is produced in conjunction with MarketingSherpa, a company and publication I have long respected, so i am definitely honored to be on board for this. There, I will be talking about the Social Media Press Release (PDF agenda here), something that is a big topic here at SHIFT; yes, I will be talking about Todd Defren's Social Media Press Release template– but that's just one part.