I have been noticing lately some handwringing, public and private, over the fact that social media marketing and PR folks do nothing but agree with each other in blog posts comments, and on Twitter et al. Nothing could be closer to the truth.
This cohort is a friendly bunch, all  trying to promote social media as the communications wave of the future. I agree that healthy debate would be a lot more interesting, but I would stop short of disagreeing for disagreement's sake. There are a few gainsayers out there, and snarky ripostes tend to degrade into name-calling and outright trolling. That's not healthy debate.
The funny thing is, even when we take issue with one of the marketing leaders, such as in the recent Seth Godin Brands in Public controversy, the result was a chorus of people agreeing that Seth was all of a sudden a  bad guy (I abstained).
I asked on Twitter for impressions of this problem, and I got a general, um, agreement: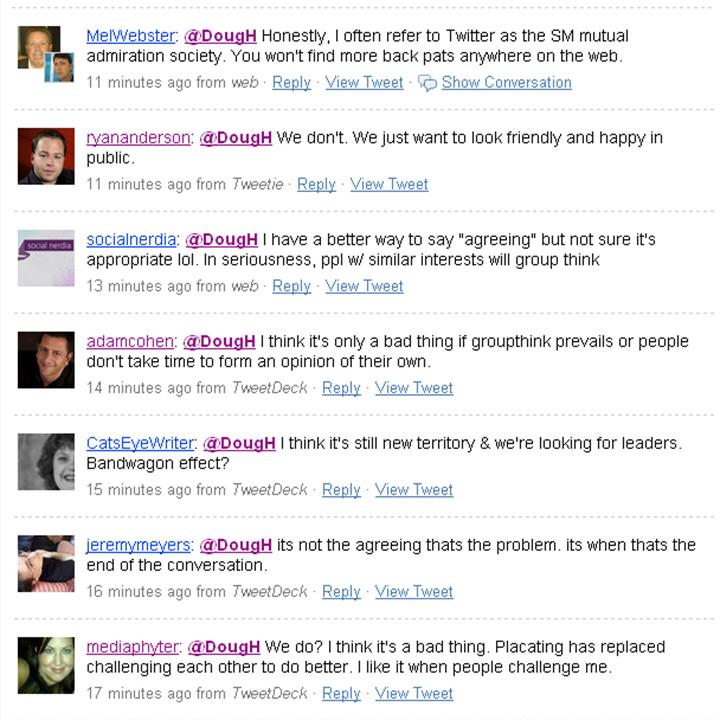 So, what do I think? We sure do seem to agree a lot. We definitely could stimulate debate more. Take, for example, the recent Washington Post social media guidelines that people are railing against. My straight reading of them doesn't reveal some sinister plot to stifle personal expression, but an attempt to dictate common sense to people who have essentially loaned their "personal brands" to the company (not that there isn't potential for the fears to be borne out). Geez, I can't even disagree without mitigating myself a little.
Well, enough of that- you can see how difficult it is to disagree. I do urge myself and others to take a few swings, and not be afraid to start a healthy debate- and in turn not to be bothered or offended by dissent.
However, here are a few parting shots in defense of agreement:
Why focus on the negative stuff? I'd rather highlight stuff I want people to see, wouldn't you? when I worked for Christian Science Monitor Radio, it would occasionally bother me that we did mostly positive movie reviews- but we only did one a week, why bug people with the crap when you can drive them to the good stuff? Still, some bad movies were worth the debate…
We are a collegial group. It's ok to reinforce each other and build each other up. I know, Kum-Bay-Yah, whatever…
As mentioned above, disagreeing for the sake of it borders on trolling; why bother?
Is it such a bad thing to agree?
That said, the responsibility is on us (us=anyone who reads, comments, and posts) to bring up issues and debate them intelligently. How about Geoff Livingston when he takes on the notion of "personal brand?" Is he just shooting for controversy, or starting an interesting debate (answer: both). How about some more stuff like that?
What do you think? Do you agree?
(That's not a trick question– or maybe it is)