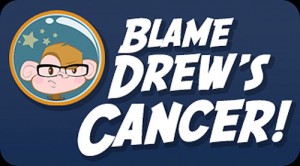 I #blamedrewscancer for missing most of the "Blame-A-Thon"
Not long ago, Drew Olanoff, a familiar and active member of the online community, confronted his newly-diagnosed cancer with the humor- and bravery- that i can only hope I would have. He decided to turn blaming his cancer- for everything- into a meme, resulting in a Web-site: http://blamedrewscancer.com/. Moreover, he recieved the support of the Livestrong foundation (Lance Armstrong's charity), and eventually put on a 24-hour "Blame-A-Thon" on September 9th. It's been tough sledding as of this writing to find out how much money the event raised to fight cancer, but it was definitely in the many  thousands of dollars– for a one-day event. Fantastic.
As a PR person, I often watch in amusement the games TechCrunch plays with the journalistic process– the breaking of embargoes (and flat-out saying they will break them, promises or no) being one of the latest. Facebook decided to have some fun with them, planting a fake story about a useless new application (the ability to fax photos), which TechCrunch ran with. Of course, Facebook finally let them in on the joke. I'm looking forward to the revenge- it should get creative- both sides should have more fun with this.
But This Innocuous (?) Facebook Feature Seems to Be the Real Thing.
So, now you can "@" reply people on Facebook and the recipient will see the mentions? Good idea. The biggest hurdle is one I'm not sure they can overcome. That is, many people post Twitter messages to Facebook. Many people also have Twitter handles that are separate from their First_space_Last name format (probably just about everyone). So, a Twitter "@" reply or mention that is posted to Facebook won't alert you in Facebook because it is referring to your Twitter handle and NOT Facebook. Get it? Maybe there will be a workaround, if there is any demand.
Dan York Explains How to Roll Out an Announcement
Why do the best posts about PR read like simple common sense the third or fourth time through? Dan lays out simply the way to put out news in this social media world. Yes, a press release is still part of the package. Other elements are old hat, but we must now remember there are new easy chanenels with which to share them.
Most important is that there are so many different channels– the press release being one of them– to share your news. PR folks should pilfer some version of this post for a blueprint for training.
Panel Weighs in on the Future of News (Cincinnati Enquirer)
This is a remarkably short article, that doesn't have much in the way of discussing solutions to the newspaper business woes. But it does have an interesting quote from a blogger named Jason McGlone:
"Charge money to me to set up my own newspaper."
What I like about this quote? It gets to something that might be worthwhile– a custom news source. My thought was that a worthwhile predict would draw from multitudes of sources– hand-picked by the reader, and perhaps changing the aggregation and syndication model and employment patterns of journalists over time. I don't know, but it was an interesting thought.