This is an ongoing series profiling some of the people I believe to be the real heroes of the Pan-Mass Challenge: the sponsors who donate their money to fund cancer research.
We have reached my minimum fundraising goal, but we can still use help from more people like these Heroes. Please considering joining them by donating any amount to http://pmc.org/DH0159.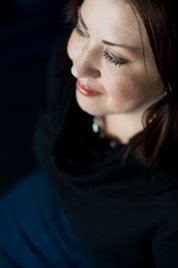 Jennifer Leggio is yet another one of the fascinating people I have met through my work- both professional and personal- in online social networking. I know her best from her ZDNet "Social Business" blog, and she also has started a "Quick 'n' Dirty" Podcast with fellow sponsor and friend Aaron Strout. Also, find Jennifer on Twitter; she is @MediaPhyter and worth a follow. I say these nice things about her despite the fact that she is a San Jose Sharks fan.
One other thing: Jennifer is also an athletic fundraiser, running in the Nike Women's Marathon to benefit the Leukemia and Lymphoma Society. Please give her page a look as well.
More from Jennifer:
– Why did you sponsor me in the Pan-Mass Challenge?
One, it's a wonderful cause. It raises money yet also creates awareness, as it did with me. I didn't know before the Pan-Mass Challenge existed and I'm glad now that I do. Two, you've always been so supportive and positive, and I wanted to return the favor.

– How did you first hear about the Pan-Mass Challenge?
It was actually from you. :-)

– Name one interesting fact or story that makes you unique and interesting
I was in the circus when I was a little kid. I went to Ringling Bros. Barnum and Bailey Circus with my family and they were looking for kids to ride in one of the clown cars. My mom volunteered me. So I rode around, terrified, and got a paper sheriff's badge for my trouble. How many kids can say that? I guess only the ones whose family drags them to the circus.

Jennifer, thank you for sponsoring me. And thank you, everyone who has supported the Pan-Mass Challenge in any way. Please consider joining Jennifer Leggio to sponsor my ride and fight cancer: http://pmc.org/DH0159. Please feel free to pass the link to others as well.