This is an ongoing series profiling some of the people I believe to be the real heroes of the Pan-Mass Challenge: the sponsors who donate their money to fund cancer research.
I have just $800 left to raise as I write this (with just 2 weeks left to go!), but I can't get there without help from more people like these Heroes. Please considering joining them by donating any amount to http://pmc.org/DH0159.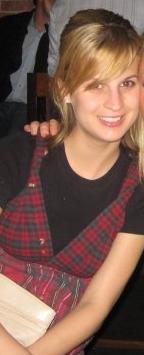 Ashley Girard is one of several young PR and marketing professionals I have had the pleasure to get to know. Dating back to her internship at Topaz Partners (where I worked at the time), and was lucky enough to get to work with her again in my current role at SHIFT Communications, until she left to work for Puma recently.
Ashley has her own impressive resume of athletic events to benefit charity, when she ran the 2008 Boston Marathon for "Tedy's Team," an anti-stroke foundation headed by the New England Patriots star.
Ashley had a few quick words to share for this blog series:
– Why did you sponsor me in the Pan-Mass Challenge?
I think you personal and physical efforts for this great cause (cancer research) are compelling (note: this is from someone who runs marathons, something I could never do)
– Are you giving in the name or memory of someone you know who has had cancer?

Ashley, thank you for sponsoring me. And thank you, everyone who has supported the Pan-Mass Challenge in any way. Please consider joining Ashley Girard to sponsor my ride and fight cancer: http://pmc.org/DH0159. Please feel free to pass the link to others as well.