This is an ongoing series profiling some of the people I believe to be the real heroes of the Pan-Mass Challenge: the sponsors who donate their money to fund cancer research.
I have just $2,000 left to raise, but I can't get there without help from more people like these Heroes. Please considering joining them by donating any amount to http://pmc.org/DH0159.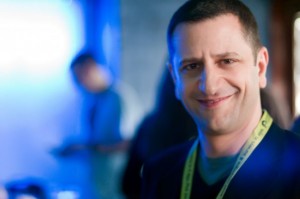 Adam Cohen (blog: http://adamhcohen.com ) is one of those members of the Boston social media scene who doesn't merely show up, he contributes. He always has something to add, and he has organized a few meetups (or "Tweetups") of his own. As one of my PMC sponsors, he does not limit his contributions to ideas and energy. I'll let him speak for himself the rest of the way:
– Why did you sponsor me in the Pan-Mass Challenge?
I know folks who have done this ride in the past, and am familiar with the organization as a result. It's a great cause and requires hard work – I sponsored Doug because he has been a great resource building community in the Boston area and sharing his thoughts and encouragement in social media. I thought this was an easy way to thank him for his own giving to the community.
– How did you first hear about the Pan-Mass Challenge?
I first heard of it through a client about 7 years ago, who rode for his son who had passed away.
– Are you giving in the name or memory of someone you know who has had cancer?
My grandmother, Shirley Platt, passed away from complications originating from cancer about 9 years ago, a few months before my oldest son was born. She was a 30+ year cancer survivor though – and an inspiration in many other ways. This cause hits home.
– Name one interesting fact or story that makes you unique and interesting.
The summer after I graduated from college, I went across the country with 2 friends over six weeks. We stole a cement lawn gnome and took it with us, taking pictures with us and the gnome everywhere we went. To this day I'm still waiting for the royalty checks from Travelocity.com. (Note: you may have to wait in line)
Speaking of photo pranks, Adam has been the subject of a Flickr meme ever since I discovered his name tag stuck to the floor at an event and took a photo of it. Here's the latest:

Adam, thank you for sponsoring me. And thank you, everyone who has supported the Pan-Mass Challenge in any way. Please consider joining Adam to sponsor my ride and fight cancer: http://pmc.org/DH0159. Please feel free to pass the link to others as well.
Photo credit: Jared Goralnick via Flickr.