This is an ongoing series profiling some of the people I believe to be the real heroes of the Pan-Mass Challenge: the sponsors who donate their money to fund cancer research. Please considering joining them by donating any amount to http://pmc.org/DH0159.
By the way– thanks to the generosity of sponsors so far, we are 45% to my minimum goal of $4,200 through the end of May!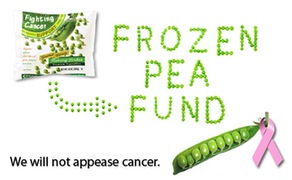 Back in December 2007, I was sitting at a social media conference (the Society for New Communications Research Symposium and a friend monitoring Twitter noted with shock that a member of the community, Susan Reynolds, had just shared her diagnosis of breast cancer. What happened over the next several days, weeks and months was simply amazing. Rather than being a community of voyeurs or simply well-wishers, certain members took action.
Susan had taken to blogging frankly about her ordeal on her "Boobs on Ice" blog. Taking a cue from her use of bags of frozen peas as pain-relieving ice packs, the Frozen Pea Fund was born as a totally grassroots, social networking effort. For some time, "Frozen Pea Fridays" were a running theme on Twitter, with people trading in their usual Twitter photo avatars for modified "peavatars," and donating $5 at a time- about the cost of two bags of frozen peas- to the Fund. The movement got popular, recognized by the American Cancer Society, and continues to contribute to help people with cancer, with Susan as the "unwilling poster girl" for the organization.
Connie Reece, another friend I have been lucky to meet through social media, has become the most recognizable face behind the Frozen Pea Fund. she has extended the fund's generosity to efforts like my Pan-Mass Challenge participation, contributing as my sponsor for the second year, as Connie says, "in honor of Susan Reynolds and all our online friends who are sharing their cancer stories."
I'll let Connie speak directly some more:
The Frozen Pea Fund wants to encourage social networking connections to get involved in raising money to fight cancer. By sponsoring our online friends, and spreading the word about their efforts, we hope to raise awareness that individual efforts can make a difference in fighting this disease.

Thank you, Connie and everyone at the Frozen Pea Fund! And thank you, everyone who has supported the Pan-Mass Challenge in any way. Here's the link for you to sponsor my ride and fight cancer: http://pmc.org/DH0159. Please feel free to pass the link to others as well.