This is the second in an ongoing series profiling some of the people I believe to be the real heroes of the Pan-Mass Challenge: the sponsors who donate their money to fund cancer research. Please considering joining them by donating any amount to http://pmc.org/DH0159.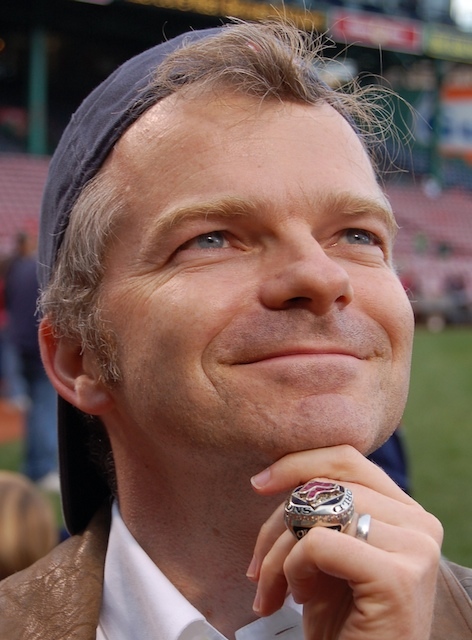 #2: Ted McEnroe
Ted McEnroe is the Director of Digital Media at New England Cable News (NESN). He also blogs for himself at Yankee 2.0 (http://yankee20.com). I met Ted at several Boston-area social media events, and to show you how thick I am, I did not know he was married to another new friend, Rachel Happe, until a few events into our acquintance. No matter.
Ted was one of the first sponsors in this year, and shortly thereafter he told me that he signed up to ride the PMC with Team NECN (and of course I reciprocated). Not coincidentally, NECN is the media sponsor of the Pan-Mass Challenge, and they also provide a large team of riders. Ted manages the team's site, http://www.teamnecn.com, which has a lot of great content. Ted told me: "It is actually watching it all come together that inspired me to ride."
Also from Ted:
"I sponsored you because I know you and your commitment to the PMC, and I have seen first-hand the good that the work of you and 5000 others like you (and this year, me) can do for cancer research."
"I hadn't really heard of the PMC until I started working at NECN 5 years ago on PMC weekend. It blows me away each and every year."
"I'm giving to you in no one's particular honor – I am riding in many ways for my father in law, who I never met – but there are so many stories, and so many reasons to give that picking one seems too hard. So I'm giving because I can."
"One interesting fact about me when it comes to the PMC. I'm just like anyone else out there, whether they're riding, volunteering or just sitting at home.
Everyone has been touched by cancer in some way – we need to keep trying until we can rewrite that sentence."
Thank you, Ted. And thank you, everyone who has supported the Pan-Mass Challenge in any way. Here's the link for you to sponsor my ride and fight cancer: http://pmc.org/DH0159. Please feel free to pass the link to others as well.