OMG OMG OPRAH'S ON TWITTER OMG OMG!!
WELCOME TO TWITTER OPRAH (BUT WHY IS SHE YELLING AT US?)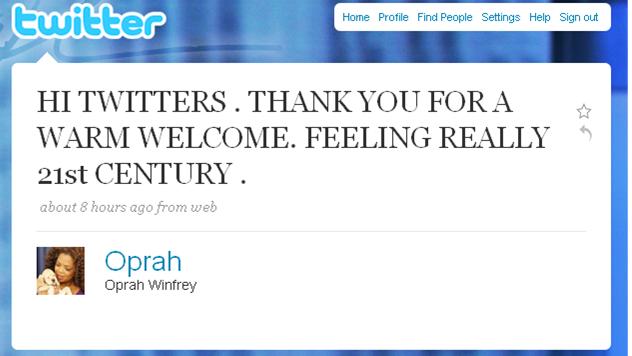 Ev Williams of Twitter went on Oprah's show to talk Twitter (no, I haven't watched it, you can't make me). This is perhaps the American equivalent of Stephen Fry going on Jonathan Ross' Programme in the UK, which resulted in a Twitter 'splosion. Will the result be the same?
Now, for all you folks worried about celebrities taking over Twitter, manage it how I manage it with the television: ignore them. Otherwise, have fun!
Social Media and Our Loose Hold on Intellectual Property
Geoff Livingston is right tom wonder if the appearance of his Twitter avatar in someone else's marketing materials is a potential copyright infringement. I'm not sure the Twitter terms of service, in this case, really cover third party uses. My guess is the use of a photo as an avatar on a public web site may constitute consent for fair use, but is this fair use (marketing materials)? If a company does this to someone who cares we may have a legal tussle to enjoy.
Unilever Chairman Talks Up Public Relations in AdAge C.C. Chapman played up the "Five New rules of Marketing" laid out by Simon Clift in this article, but of particular interest to me as a PR flack is this choice bit:
As a result, public relations may become the fastest-growing focal point of marketing services for Unilever in the years ahead, he said in an interview after his talk.
This raises the question again: is PR more suited to the conversational nature of social media, or can advertising, best known for but not limited to broadcasting one-to-many messages, adapt? There's enough broadcast TV left to live on, but what's next when the "creatives" need to let the hoi polloi speak?
that doesn't mean I have to understand or read the whole thing, but if you have any interest in "Government 2.0" read the post by Aaron Brazell– and all the comments, including those by his "adversary," who wrote the e-government report he questions. Like I said, far from taking sides, i'm too tired at the end of the week to even digest this. Have at it though, if you like.
Two really cool things:
The NHL had a Tweetup to commemorate the beginning of the payoffs (and the near-end of the Canadiens' season– sorry, Habs fans). These things are becoming more common, and not simply dominated by the same old "social media" crowd anymore.
Old colleague Mike DiLorenzo has the job he was born for, as the NHL Director of Corporate Communications

Of the photos on the Tweetup site, yes, I purposely chose the "dejected Rangers fans" photo. I'm with the Bruins, thank you very much.
Blog readers: I am riding the Pan-Mass Challenge this summer, a 2-day bicycle trek across Massachusetts to raise money for the Jimmy Fund in support of cancer research. Will you join the generous folks who have sponsored my ride? Click any part of this message to go to my fundraising page– and thank you!