A Newspaper Goes Dark, with Dignity (?): The Rocky Mountain News produced its last edition Friday, after the sudden announcement that it would do so after the Scripps company was unable to find a buyer. Is this the beginning of the real end for print newspapers? I'll defer to true experts in the field, but it feels like we'll see more recognizable papers go the way of the Dodo before the stronger brands and businesses figure out the new reality for the new media.
I should mention I am a bit of a partisan, as I and my agency (SHIFT Communications) represent The Christian Science Monitor in communicating its transition from a daily print to a Web-first news publication with a new significant weekly print edition (coming in April, stay tuned). The Monitor is uniquely positioned to try something new like this where other organizations may be afraid or unable to make a similar leap, and it will be interesting to see how it is received once it actually happens and we see the weekly print rolling out.
Back to the "Rocky;" see the photo slide show at the Rocky home page; it is heartbreaking yet fascinating. Also, this 20-minute documentary is a remarkable look into the announcement and the surrounding events and feelings (hat-tip to ReadWriteWeb, where I saw it).

Final Edition from Matthew Roberts on Vimeo.
One other thing to add. Aside from being a publicist now, I was a producer for The Monitor's "Monitor Radio" operation from 1994 until it was shut down in 1997. The Rocky's shutdown brought back a lot of memories of our last days at Monitor Radio – though it was a far less bitter ending, we did have a similar sense of family and pride in our work as the last days, and our last programs, approached. I hesitate to bring this up as I do not want to get my experiences caught up in negative associations, but I do have a real sense of empathy with the Rocky's staff. While I'm at it, here's a picture of the final day at Monitor Radio in 1997, courtesy of colleague and Facebook buddy Mike Wilkins: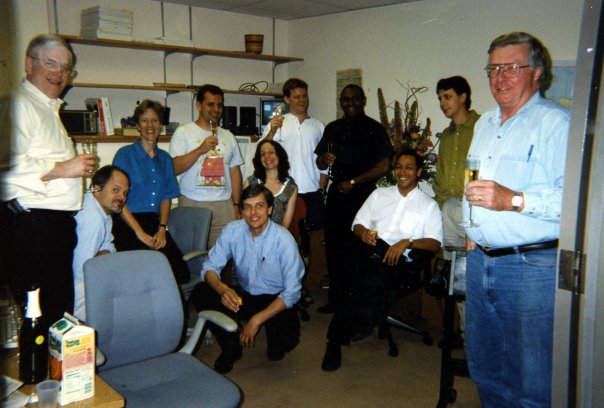 Re-Thinking "Followers on Social Networks: Loic Lemeur, the entrepreneur behind Seesmic and Twhirl, generated a lot of discussion when he decided that following thousands on Twitter was "fake following," and nuked his whole following on the message/social network service, building up a more intimate followers list from scratch. This is in opposition to Robert Scoble, who has no problem following back tens of thousands of people who friend him on Twitter. Is that "fake following?" I agree with Scoble and others that following everyone back is a courtesy, and that it entails no obligation to intimately know someone within the network. It's impossible, and we (and a growing number of tools) have ways to group and track the small number of folks we actually do want to know more closely. Loc, how about this? Build some really cool grouping functions into your Twhirl tool. I'm not nuking the people I follow just prove a point.

Twitter "mainstream?" No, still not yet, but as I have called Facebook mainstream and Twitter not in recent posts, it's worth calling out an entertaining piece on ABC's Nightline (no embed code– cowards), not to mention their use of Twitter during President Obama's first address to Congress, and a much more staid piece from The Financial Times as proof that Twitter is becoming closer to being a household word. When Twitter is mentioned at all parties the way Facebook is, then it's mainstream. Soon, I am sure.
Senator Roland Burris' PR Guy Deflects Blame: Every family tree has a crazy branch and in public relations we have our friends the political flacks. I clip stories like these to call up whenever I think I might be tempted to do PR for politicians.

Is It What You Know or Who You Know? What! What! What! I am firmly aginst the notion of "Rolodex PR," though I suppose it works in some strains of the profession. As kevin Dugan quoted it in his post:
"A personal relationship will not get you coverage of a bad pitch. A good pitch will get you coverage even with a bad relationship."
Give me a good storyteller over a backslapping jackass any day- though it's ok to be both.