The Pan-Mass Challenge is still more than five months away, but I have had an eventful couple of weeks in preparation.
Fundraising is Off to a Great Start: Thanks to some very generous folks (who are probably reading this), I am actually ahead of my fundraising pace of last year. I am not resting, though, as I have set a goal that is $800 higher than last year, and still have a long way to go.
Please click this link to join the great folks who have already sponsored me. Any amount is welcome. All money raised goes to the Dana Farber Cancer Institute.
I know it's a tough economy and not everyone can give. Another way to help is if you can't sponsor this year, pass on the link to a few friends; maybe someone else can. Plus, moral support is equally important.
The Frozen Pea Fund: Once again, Connie Reece and the Frozen Pea Fund has joined the ranks of sponsors with a generous gift. The Frozen Pea Fund was started in honor of an online friend, Susan Reynolds, whose sudden fight with breast cancer she shared on her blog, "Boobs on Ice." The online community, of which I am proud to be a very small part, has rallied around Susan and the fund, which continues to raise money to support the fight against cancer, and encouraging others who are doing the same. Thanks Connie and Susan!
Training: More Online Friends Come to Help: At the behest of some of my friends who are also doing the PMC, I started to attend spinning classes. I spent last winter doing a lot of indoor biking to stay ready for the spring thaw and "real" biking, but spinning is another level altogether. The first class at my local YMCA was tough, but the person who really started to beat me into shape was Liz Page another local friend I know from the online world, and who also happens to be a certified spinning teacher (as is her husband Jesse). Liz kindly invited me to her class, and proceeded to kick my butt relentlessly for a solid hour. I'm ion much better shape for it though, and am hoping to recover in time to catch her next weekend class. By the way, if you are local to Boston and belong to any of the gyms listed in the link, go check out her schedule.


My New Ride: Last year, I rode the Pan-Mass Challenge on a 17-year-old steel frame bike. The old bike has served me well, but I decided an upgrade was long overdue. Enter (again) Twitter, and a fellow PR professional named Mike Hollywood, who connected me with Landry's Cycles, and manager Mark Vatour. Mark was a huge help (and didn't even laugh when I took my first fall wearing cleats- that's right, I went without cleats last year too), and I'm looking forward to hitting the roads soon.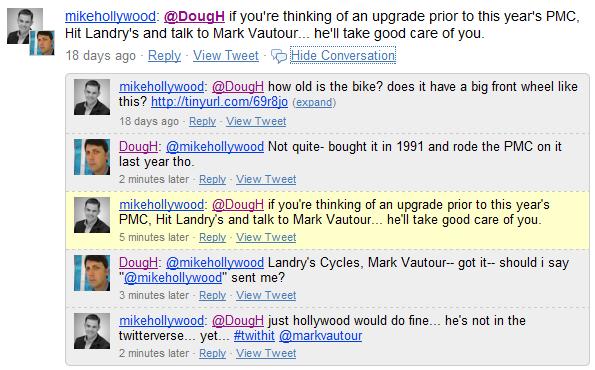 Thanks again for indulging me. And thanks again to all my sponsors!