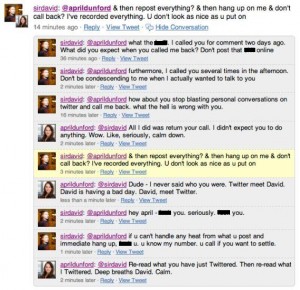 Marketer Sounds off About a Reporter's Rudeness, Acts Surprised When Said Reporter Unleashes a Barrage of Verbal Abuse A few lessons from the very public nasty words between marketer ("Don't call me a PR person") April Dunford and National Post reporter David George-Cosh:
– I agree with Jennifer Leggio of ZDNet (linked above), that neither party was covered in glory here.
– I don't ever want to be "that person" that has a little letting off of steam turn into a donnybrook. I am very active on Twitter, so I imagine I am vulnerable to it, but still…
– There are many messages in any given day that I don't send. I don't care if the message is anonymous, I don't care if the missive is deserved, it's just not smart.
– No one, of course, will defend the reporter's actions. Wowee wow wow. Best, though, to leave it alone. Apparently he regretted it later. Or something.

Beating Dunbar's Number Chris Brogan wrote a post last week that is close to my heart: Dunbar's Number, which sets a cap of meaningful relationships at 150. How do those of us with more in our online social networks cope with that? Chris makes a great point: "Be part of their 150." I'll take it a little further; those people of whom you are one of 150, they are part of a bunch of others' 150s. That's a lot of 150s. So how do I handle several thousand on Twitter and several hundred on Facebook or LinkedIn? Here's my secret: I'm not talking to 9,000 people, I'm talking with a much, much smaller number at any given time. Not 150 either, but a few or a couple dozen. Our lives, online or otherwise, are filled with lots and lots of "Baby Dunbars," not a single Dunbar that is our hard limit. That's why I expand my networks as much as possible, to create as many possible touchpoints that could spark new Baby Dunbars.

Jason Falls on Why Social Media Will not Get You a Job in a Recession The headline is, as Jason will say, "incite-ful." I am an advocate of social media as a tool to help your traditional networking. It's always good and always necessary to be reminded that over-reliance on online networking at the expense of offline.
Mack Collier's "Biggest Social Media Mistakes" First, I like that Mack shares lessons learned; I should do a post like this, as soon as I make some actual mistakes (right, see above). Best one? Number 5, that he delayed blogging because he thought he had nothing to say. I always say that's BS, your readers will tell you if you're saying nothing. Blog away! Thanks, Mack.

Nice to be Reminded Why Jeff Pulver was Cool Long Before he was "Social Media" Cool This week marked the Fifth anniversary of the FCC's "Pulver Order," which kept Internet voice classified as data rather than telecom. This was truly a part of a revolution, that any IT or telecom folk can tell you. Yes; very cool.
Blog readers: I am riding the Pan-Mass Challenge this summer, a 2-day bicycle trek across Massachusetts to raise money for the Jimmy Fund in support of cancer research. Will you join the generous folks who have sponsored my ride? Click any part of this message to go to my fundraising page– and thank you!