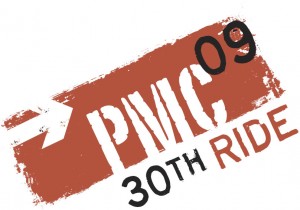 A mere six months to go until this year's Pan-Mass Challenge, and I though I would share a few updates on my preparations:
– First off, please consider donating to sponsor me in the ride. Click here to join the ranks of my generous sponsors. All proceeds (every dime!) go to the Dana-Farber for research onto cures and treatment for cancer. I have a bit more on fundraising updates below.
– Jackie Herskovitz of Teak Media and her crew conducting PR for the PMC were kind enough to supply me with the nifty new "30th Ride" logo, shown here and in the margin of the blog.
– Speaking of the 30th Ride, the official PMC blog is publishing a "30 Rides in 30 Weeks" series– they are up to 1983 at this writing (that's the fourth PMC). It's worth a look to see how the ride has developed from 36 riders raising $10,000 in 1980 to the 5,000-plus riders who raised $35 million for cancer research last year.
– Training update. This past weekend, my friend Stephen finally talked me into taking a spinning class. Though I trained and rode the PMC last year, I managed to avoid spinning classes somehow. There is no comparison between a spinning class and indoor training on your own. I still don't know what hurt more, though- the class, or getting up at 7 am on a Saturday. I guess I'll be even better prepared for the big ride this year.
– Fundraising update. I thought I would compare this year to last. For one thing, I committed to raise $3,400 last year and made my goal – thanks to many of you- the day before the ride. This year, I am committed to raise at least $4,200, and while this economy may make things challenging, I think enough people believe in this cause that I will be successful again.
Last year, I had raised more money by the end of January- $355 to $270 this year, but this year I already have nine sponsors (thank you!) to last year's three. What's more encouraging is that I only have two repeat sponsors so far, and seven new ones.
A big difference this year seems to be that there are a lot of new, different people on Facebook, from parts of my life (High School, former jobs, college) that are not represented on Twitter, where most of my donors came from last year.
From a social media experiment angle, I am very interested to see how things go. Again, please consider joining me by being a sponsor– those of you can't or already have, please cheer me along, and i will try to give interesting updates as I go.
To sample last year's updates, have a look at this link.