The New York Times' David Pogue posts Twitter Tips for Beginners: A great common-sense starter guide for the bewildered Twitter newcomer. What's hilarious is that Poguue was berated by some Twitter users for "acting like a newbie." Off with their heads! That's no way to be social.
Are Social Media Veteran (not "Experts!!!") Being Impatient? Is it ok to link to my boss' blog post? Yes! Todd Defren reflects the impatience of a lot of us that there is still a need for "Social Media 101" courses. Of course there is- I too, however, would just like the whole world to get up to speed already
The Daily Influence Personalized Social Media Page: A dashboard with pre-loaded RSS feeds for social media wannabes. Do we need this? Isn't this easy to do? the cynic in me says it is a good idea to serve the lazy and less competent, even if the result is kind of ugly lookin'.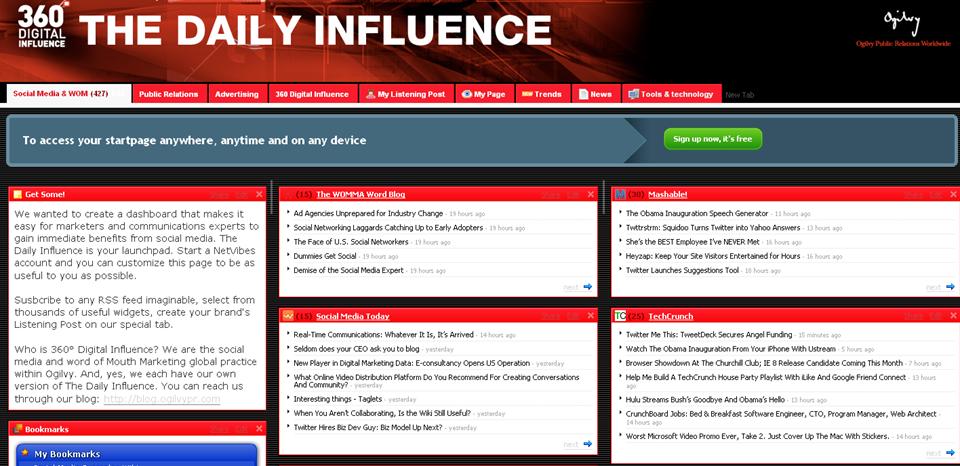 Dan "Fake Steve Jobs" Lyons goes off on CNBC for poor Apple coverage- on CNBC: The topic? Coverage of Steve Jobs' health issues and misinformation from Apple leading up to the recent announcement of the company chief's medical leave. This is the best media tirade since Jon Stewart told CNN they were bad for America. Of course, Lyons is right. Apple PR, in my book an oxymoron ("relations?" really?), could be its undoing someday.
ALSO: Dan Lyons follows up with his column in Newsweek.
Seth Godin goes back to basics with How to Write a Personal Email: A hate linking to someone everybody links to, but a must-read is a must-read. Let us never forget that we all need to be reminded of the basics regularly. And read between the lines – "don't spam" – I have applied this post to PR usage. If you think you could be doing it wrong, you probably are.