UPDATE, July 8, 2009:
Welcome, David Weinberger friends and fans! It seems David mistakenly linked to this post in a Tweet. Please stick around and enjoy this slightly aged but still relevant post about public relations. If you want the "United Broke My Guitar Video," please go here.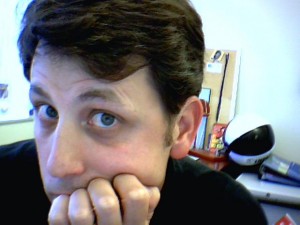 One of the occupational realities of working in the public relations world, is that our media "targets" (yes, we use that word) often write about us, mostly when they are frustrated and want to vent about how terrible we are. I'm not complaining, as we get our rewards and kudos in other ways.
Recently, there has been a rash of posts by tech bloggers that forces PR to re-examine its role in the world of social media. Not that we haven't been doing it anyway, but I'll bite. Here is a roundup of the posts that came to my attention:
Marshall, Kirkpatrick, ReadWriteWeb: "Does Good Tech Need PR?"
I really like Marshall's post, and I am not surprised as he has been very friendly to and understanding of the better Pr people out there. He is very balanced, seeing the need for startups to engage PR and pointing out some of his favorite PR pros (I can live with the snub, as I have been too full of myself to be pitching Marshall lately). Most importantly, he knows the need for companies to work with PR outside of mere media and blogger relations, to craft messaging and make sure communication preparation is solid before going out the door with it. He does acknowledge the other side, but doesn't seem to embrace it in my view.
Robert Scoble, Scobleizer: "PR-less launch kicks off a stack overflow of praise"
Scoble goes out of his way to come up with a great example of a company that got lots of blogger attention. His source, a programmer that loved the product, Stack Overflow, and recommended it to Scoble, who in turn loved it. I don't see how that disproves the need for other companies to engage PR professionals. This seems more a calculated post by Scoble to bear out his recent attempt to go cold-turkey on PR. Withdrawal's a bitch. I'm not going to excuse the scads of crappy pitches any blogger gets, but saying you are getting off the PR bandwagon won;t prevent you from being pitched– in fact, now you will only get pitched by the dummies who are doing it wrong. The only practical advice is not to be popular.

Michael Arrington, TechCrunch: "The PR Roadblock on the Road to Blissful Blogging"

Despite the snarky title, I liked this post as well. We don't want to hear our PR industry is "broken," but Arrington is very constructive in his criticism. He ends up writing a decent blueprint for young PR people to follow: read the blogs, participate in the community, go to events. Just because it's common sense doesn't mean it can't be said over and over. And over.
Mark "Rizzn" Hopkins, Mashable: "The Changing Role of Public Relations"
What has changed in public relations? For one thing, we are pitching people named "Rizzn." You won't get that in the New York Times. I'm not just making fun of a nickname, but pointing out the informality that now exists between bloggers (and, heck, other journalists) and PR folks. This points back to relationship-building– no, not a freakin' rolodex; how useless. I mean, treat people like humans, and as Hopkins says, give value beyond a press release and corporate messaging. Again, more common sense (a theme here so far), but old skills newly highlighted by the need to do relations with blogs and other social media.
Steve Rubel, Micropersuasion; "Does the Thrill of the Chase Make PR Obsolete?"
Ah, fear and self-loathing in PR land? This is the post, inspired by Scoble's post above, that in turn inspired the TechCrunch and Mashable write-ups. Unfortunately, Steve can offer no better advice to us PR pros, assembled at his feet to learn, than "stop spamming." Thanks, Steve! But what he does give is insight into the problem of any popular blogger who has to put up with the daily multitude of misdirected pitches, with the added misery that he is a part of the industry that creates the pile of cow patties he must now navigate in his email inbox. that is actually a worthwhile perspective.
WWASD (What would Allen Stern Do?); Centernetworks
Conspicuous by his absence is Allen Stern of CenterNetworks. He is usually good for a strong opinion, and trust me I know he has strong opinions on the relationship between PR and bloggers. Come on Allen, what say you? Or are you too busy writing posts about, I don't know, technology and social networking?
I wish for bloggers– and all journalists– I could crinkle my nose like Samantha Stevens and whoosh away all the bad pitches they get every day. Alas, I can only try to tidy up my little corner of the SHIFT Communications universe, and maybe a little more. Bloggers are learning that their popularity means they get the same uneven PR service, solicited or not, that all media gets. PR pros are learning that bad PR practices beget much swifter and more public retribution than in the past. Maybe these factors will combine to make us better.
Other related posts:
Technorati Tags: public+relations, PR, readwriteweb, scobleizer, micropersasion, techcrunch, mashable, centernetworks