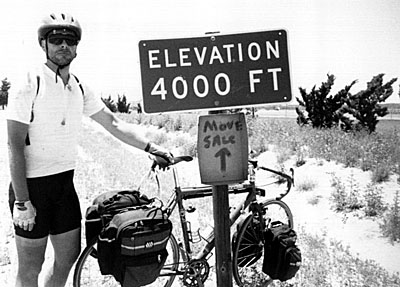 Over the last several days, I had been spearheading a drive to get to 4,000 followers on Twitter for my 40th birthday, which was on Saturday June 28. I fully admitted it was a vain, shameless, silly stunt, and I was too far away from the goal when I started to think I could realistically make it. I did make it to 3,891 as of this writing, a bit farther than I would have thought.
So why do it? There are so many reasons a serious communications professional like myself should not take part in such a "shiny object/round number" game. But there are so many reasons to do it as well. Here is a look into some of my thinking.
Round Numbers are Meaningless: This is true, but they are fun nonetheless. Any goal needs to seem not random, so any reaching by definition looks contrived. I have learned not to care, so I dove in. Plus, I would rather conduct this practical experiment than make general pronouncements about the near-future ubiquity of tools noone is using yet.
Social Networks are Meaningless over a Certain Number: I don't believe that for a second. The more people, the more information to share, the more touchpoints with the rest of the world. Whether it's Twitter or Facebook or whatever, I want to be connected with as many people as possible.
It's a Frivolous, Vain Pursuit: I'll give you vain, but frivolous? Wrong, wrong WRONG. The currency in social networks is relationship, with the smaller denominations being communication. Even if only a small number of the several hundred (Twitter makes it hard to count exactly how many) new followers over the last few days become regular correspondents, I have just enriched my network several-fold. I win, and hopefully the new followers win.
Don't Tell People Your Age One of the rules of job interviews is not to answer direct questions about your age. That's smart, as age discrimination laws are serious, and indeed I actually refused to answer an innocuous question about my age in my recent interview process before joining SHIFT Communications. Also, I could go around pretending to be 32 online, but my birthdate is public information somewhere down the line. So, the temptation to make a little noise around a round number was too much to resist.
You Will Piss People Off With Your Little Quest: I did see one message from someone unfollowing me because of my "dumb followers goal," but the norm was people– who I count as real friends- taking the meme and spreading it. Full disclosure: I asked Chris Brogan to Tweet about my quest for 4,000, but everyone else who did, including my boss. Todd Defren, and many of my co-workers, did it unprovoked. What I saw was a community effect.
This Dilutes Serious Communications Efforts: For me, social media is a lab. There is a place for strict businesslike communications, but there is a reason I maintain possession of a personal blog, Twitter account, etc. – I can do what I want with it, from gathering information for or disseminating information about clients, to Tweeting about Red Sox and Celtics Games (which makes my "4,000" effort seem like a minor Twitter burp), to raising awareness of my training and fundraising for the Pan Mass Challenge. A lab means I am going to try things, to see what draws traffic, what draws responses, and what new tools I can use to create media.
The network effect of asking for followers to celebrate my birthday was something to see indeed. It convinced me that many of my Twitter friends are indeed truly friends, not just correspondents. It also shows me that people are naturally inclined to help each other, even with the smallest requests. That's how I got active on Twitter in the first place.
So, thanks to all of you who wished me well on my birthday, and tried to get people to follow me in my quest for 4,000 Twitter followers. I may have fallen short, but I got a lot farther than I thought I would, simply because people help. If my cause had been more serious, I'm sure enough of you would have been there. And on an everyday basis, I have a much bigger pool of people to talk and share information with.
Yes, I'd do it again. Besides, wasn't it fun?
P.S. As for people who helped, there are actually too many to name and I fear I would forget someone. Your best bet, if curious, is to look back at replies to me on Summize.com.
Technorati Tags: twitter, socialmedia